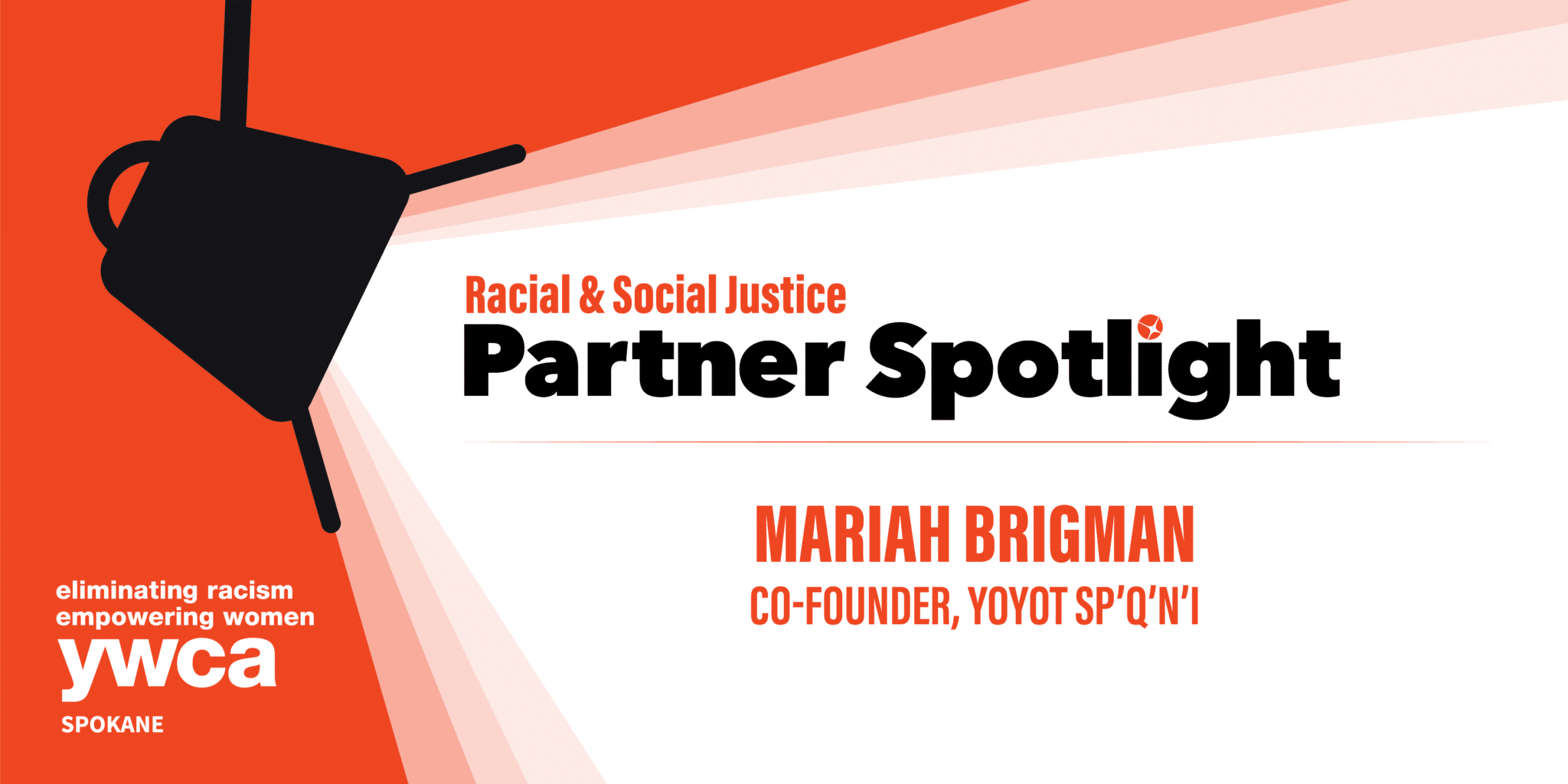 Racial & Social Justice Partner Spotlight Series
Each month, our Equity Coordinator, Lara, sits down with an organization or individual in our community to spotlight the work they do to create real and lasting change for a more equitable Spokane.
---
(3 minute read)
CW: domestic violence, death/murder
---
October Spotlight
Mariah Brigman, co-founder of Yoyot Sp'q'n'i
Much of advocacy work is borne from lived experience and seeing gaps in one's community. For Mariah Brigman, the conception of Yoyot Sp'q'n'i was just that – a combination of direct impact and impact on those she cared about. She and friend and fellow advocate, Angel Sam, co-founded this organization just a year ago. Their goal is to raise awareness of Missing, Murdered, Indigenous Peoples.
Mariah grew up witnessing domestic violence (DV) in her home. She would later experience intimate partner violence in adulthood. However, her aunt's DV related death proved to be a pivotal moment in her advocacy work. Her desire to help those in DV situations turned into a passion-driven career path. This also pushed her to get her bachelor's degree in social work. She is currently working on her Master of Social Work through Eastern Washington University.
A statistics project during undergrad gave her the opportunity to dive deep into the data (and lack thereof) regarding MMIWG. She saw that DV played a significant role in the murders of Indigenous women. She also saw these murdered women being characterized poorly, usually involving drug use, sex work, and victim blaming.
Mariah brings up disproportionality in news coverage when it comes to BIPOC women. Known as Missing White Woman Syndrome, it's the concept that missing persons with certain characteristics, i.e., white women and girls are more likely to gain law enforcement efforts and media attention than others. A recent example is the case of Gabby Petito, who went missing in the state of Wyoming last year. Mariah doesn't deny or downplay the horrific death of Gabby Petito. "It's just a disproportionality of how the world was so apt to go help her. And then you have just many more Indigenous women and women of color that are missing and it doesn't get half as much traction as Gabby Petito," she said. 710 Indigenous people, mostly girls, have gone missing in Wyoming over the last decade, none of which have gotten national news coverage.
"There was not enough being done about it.

There was not enough awareness, there was not enough action." –

Mariah Brigman
A vigil that Mariah helped organize in 2020 honoring MMIWG, including Courtney Holden and Chantel Moore, became the catalyst that changed Yoyot Sp'q'n'i from an idea into a reality. Being in community with other advocates and activists, it became clear that there was still a lot of work to be done and that this work consistently falls on the shoulders of the few.
Yoyot Sp'q'n'i's board of directors is made up of all Indigenous women with lived experiences, including DV. As with any kind of advocacy or activism work, self-care is crucial. For Mariah and her board, self-care takes shape in the ritual of smudging, binging TV shows, and of course, lots of humor. They lean on each other for support and understand when one of them needs to step back or take a reset.
Yoyot Sp'q'n'i's approach to trauma healing and being trauma-informed involves connecting with one's culture. For Mariah, spirituality is a big part of recovery. "Really connecting with culture and keeping the culture alive is very healing due to colonization and intergenerational trauma," says Mariah.
Collaboration with the Kalispel Tribe of Indians is one thing Mariah has been proud of since Yoyot Sp'q'n'i was established. This new partnership has led to Yoyot Sp'q'n'i being able to work with the Kalispel Tribe Victim Services. Together, they've been able to provide assistance to Native families and connect them to resources.
The biggest goal Yoyot Sp'q'n'i is working towards is building a shelter to help Native survivors escape unsafe and dangerous DV environments. They hope to reduce rates of DV within the Native community by spreading awareness and using culturally tailored evidence-based treatments.
Right now, they are in the planning stages, working on building their networks and relationships. They welcome any guidance, support, or advice by those that also support Indigenous communities and DV survivors. Says Mariah, "We got a boot on the ground, but not both our feet. We're getting there, getting the conversations going and the knowledge out there, this is what we're trying to do."
Important links:
National Day of Awareness for MMIP – May 5
Washington State MMIP Task Force
Urban Indian Health Institute
---
I want to thank Mariah for taking the time to talk with me and share about the work Yoyot Sp'q'n'i is doing. YWCA Spokane is excited to stay connected and support them as they grow! Consider volunteering or donating to their efforts. Learn more here. Sign up to get Missing Indigenous Persons alerts here.
---
YWCA Spokane's Racial & Social Justice Committee
Our vision is to strive to be a consistently accurate resource for information on racial, ethnic, and cultural awareness to promote diversity, equity, and inclusivity in employment, in business practices, and in the care and services provided throughout the communities we serve.  For 2022, the RSJ Committee is focusing on
Community Partnerships

Enhance outreach efforts to community partners and liaisons to share ideas, support each other with action, and solidify connections. View the list of our RSJ Partners.

Events

Develop and host or co-host events to connect various groups of community members to share and understand each other's stories. Events include movie nights, Stand Against Racism, equity & growth Challenge, and Transformations Camp for youth.

Education & Training

Provide training to YWCA staff, board of directors, mission partners and the community to allow awareness of subconscious thoughts or attitudes that affect our perceptions about people, the decisions we make, and the impact on our community.
Join the conversation with our Facebook Group and learn more about our RSJ Committee here.
CHECK OUT OUR PREVIOUS SPOTLIGHTS
If you or someone you know should have their advocacy work highlighted through our RSJ Spotlight series, please email our equity coordinator, larae@ywcaspokane.org.