Join us in celebrating the success of our recent Transformations Self-Care Celebration event!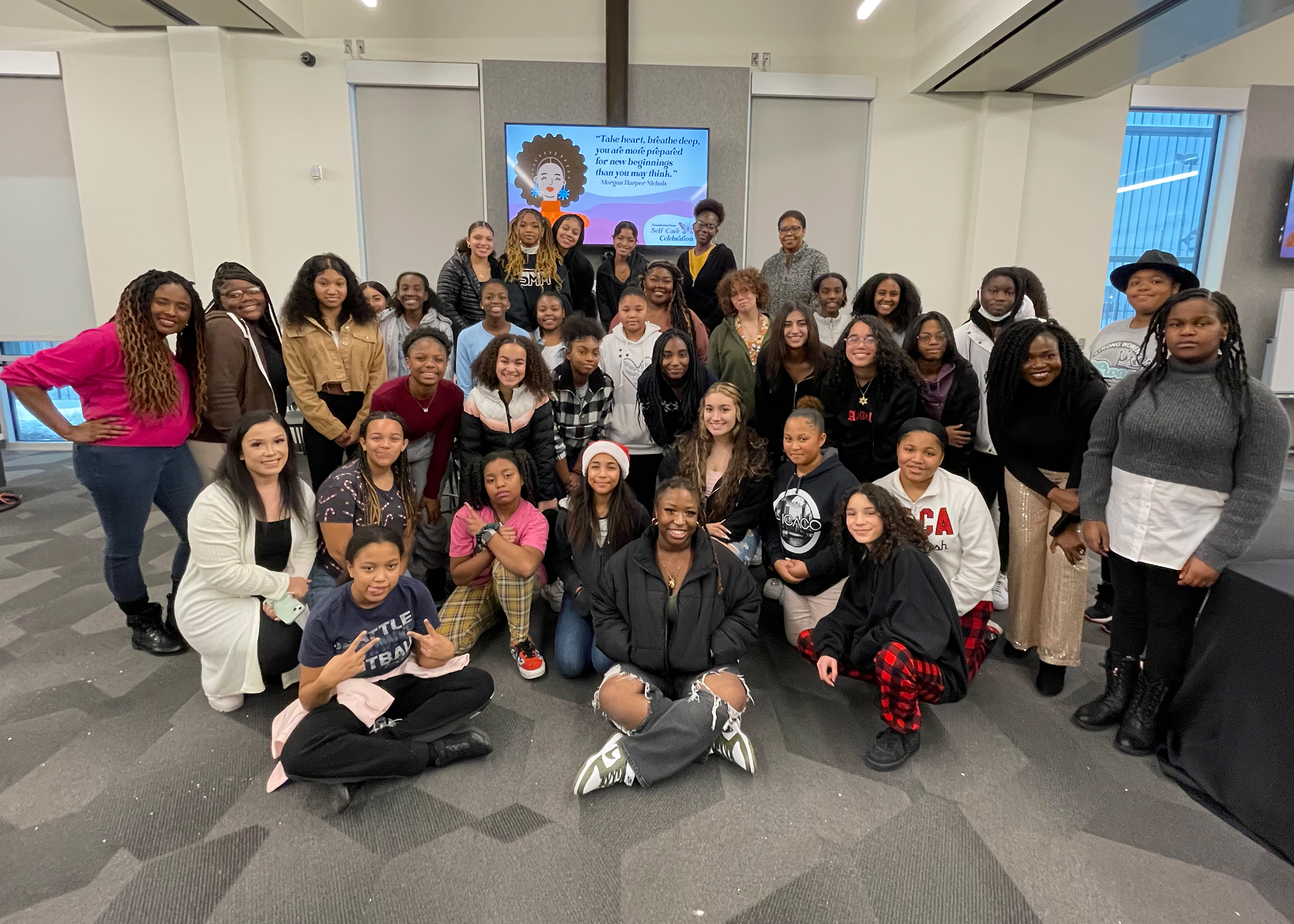 Last year was a milestone year for one of our youth programs called Transformations. After a two year pause due to the pandemic, we were able to bring back our summer empowerment camp called Transformations Camp through a partnership with Jaime Stacy and her SWAG program. In addition, we were able to create a brand new event called Transformations Self-Care Celebration, a one day free conference for youth in Spokane.
During a time when many youth feel lonely and isolated, are affected by the weather and seasonal depression, and are navigating challenges with family and the holiday season, this event was intended to offer a special window of time where young people could focus on learning how to care for themselves.
A Powerful Experience!
We brought 34 young women together from all over the Spokane area to talk about belonging, self-care, hair care, healthy relationships, and mental health. There was wonderful engagement and participation! At the event, one of the participants shared in awe a comment with an event volunteer that they had "never been in a room together with so many other girls of color." Below are a few of additional comments received from participants who took part in this special day:
"I wish more people understood how we experience dating abuse and unhealthy relationships as teenagers."

"This day helped me feel like I wasn't alone and I loved having this space to connect with others that are going through similar things."

"I came to this workshop to learn more about how to identify healthy vs unhealthy behaviors but I also learned that I need to have a healthy relationship with myself too." 

"I don't have healthy examples of relationships but I know that I deserve them."

"I wish we had a safe space like this to talk about these things more openly and be understood." 

"I loved seeing so many different types of hair."

"It was great being around other young women."

"I was a mentor at transformations camp and love the self-care celebration. We are breaking cycles." 

"My little sister could use this in her life." 

"Thank you so much and I had a blast so grateful I got to come I love you!!" 

"Yesterday was amazing and I'm so grateful I got to attend!! Thank you for being such an important person in my life."


"I had a great time yesterday and at the camp this summer. I appreciate you more than you know." 
---
Building Community & Belonging With Youth
As YWCA Spokane's Prevention Coordinator, I facilitated a workshop on healthy relationships, one of the 3 main workshops provided during the day. The energy, knowledge, and conversation that was exchanged during the day is definitely something to celebrate. To say that we left this space together with a feeling of belonging is an understatement. It was fun and comforting to be in a room full of women of color varying in ages, knowledge, experience, and interest. What I would have given to experience an event like this as a teenager!
Part of our intention with putting on this event in collaboration with SWAG was to help spread awareness about our prevention efforts at YWCA Spokane and encourage engagement in our new
Teen Council
, launching this January. We are excited to continue to hold space that focuses on the experiences and issues most important to youth.
The event also served to connect young people with Jaime Stacy and her SWAG program and the other amazing workshop facilitators, Kameisha Williams and Stephaine Courtney.
---
A Glimpse of The Day
This special day would not have been possible without the vision and partnership of Jaime Stacy and SWAG. Jaime has been an incredible partner to YWCA Spokane in our efforts to live out our mission and to create positive change in Spokane. Special thanks to Jaime for leading this event and for providing an inspirational and heartfelt keynote to the youth focused on belonging. It was a day to remember!
---
Thank You To Everyone Who Made This Day possible
Our inaugural Transformations Self-Care Celebration was a great success thanks to the collaboration and support of many individuals.  Thank you to Jaime Stacy & SWAG for partnering with us to put this event on. Thank you to our Community Engagement team at YWCA Spokane and to all the valued volunteers and community partners who contributed towards this special day including Deb Svoboda, Rachel Dannen, Jennee' Pool, Danitra Pope, Tayvia Patrick, and Alex Lockett. Shout out also to Kameisha Williams and Stephaine Courtney for joining myself and Jaime as event facilitators. Together we created a memorable, inspiring, and unique day for youth in Spokane.

In the above photo pictured left to right: Lizbeth Reyes, Jaime Stacy, Stephaine Courtney, Kameisha Williams.
---
Thank You To Our Transformations Sponsors
This special celebration is an extension of our our summer empowerment camp called Transformations Camp.  Special thanks Jim Sheehan along with other key partners for their financial sponsorship of these efforts. This offering would not be possible without their support.
If you or your organization would like to support YWCA Spokane's prevention efforts that foster healthy relationships within young people in our community, please contact Erica Schreiber, Director of Community Engagement at YWCA Spokane by calling 509-280-2616 or by email ericas@ywcaspokane.org. Thank you!