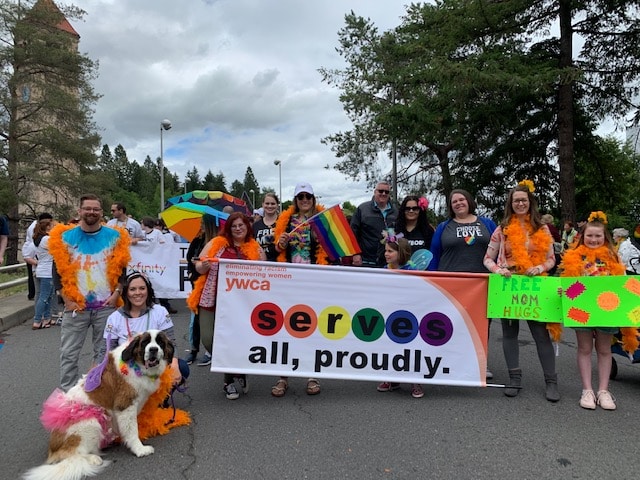 YWCA Spokane is proud to serve all people!
Thank you so much to all who joined YWCA Spokane at the 2019 Pride Parade and Rainbow Festival!
Seeing everyone in rainbow colors, marching to show their support for everyone to love who they choose, and stopping by our info-booth at the Festival was such an incredible way to celebrate this important month. This year's march truly embodied the mission of Pride, "to thrive, not just survive"; 27,000 people attended this year's Pride Festival, a record number!
A special thanks to our Education and Outreach Coordinator, Nicole Nimens, for organizing YWCA Spokane staff and board members to march with our agency, as well as for holding a booth at the Festival.
Nicole says:
"Every year when we March, I feel a sense of immense joy and hopefulness. Watching all of the support and the love everywhere we look is something that is not always visible on a daily basis, so to feel so much all at once is something unforgettable. Love is undeniably everyone's experience to have, and this stance is a privledge to support. Day to day, we see pushback toward the LGBTQ+ community which reminds us how much being an ally and advocate is needed."
View Nicole with the YWCA Spokane staff, friends, and community marching in the 2019 PRIDE parade:
---
YWCA Spokane's Board Chair, Catherine Kashork, who joined the festivities shares, "What a fantastic day celebrating PRIDE with YWCA Spokane.  We are so proud to be a part of an organization who serves and believes in equity for all."
We are so thankful for all who joined this public display of support for equality and equity within our community. Thank you!
Want to know more about the history of PRIDE? Learn more here. 
---
See photos below!