YWCA Spokane Celebrate's Our 3rd Annual Partners In Progress Annual Meeting
2018 was a year of impact, courage, and tremendous growth for our agency.
On Wednesday, March 27th, 2019, YWCA Spokane, along with friends, partners, and supports, joined together in celebration of our agency's 116th birthday, a reflection of successes in the previous year, and acknowledgment of the organization's annual award honorees. This event was held 8:30am – 9:30am at the historic SIERR Building at McKinstry, 850 E Spokane Falls Blvd, Suite #100, Spokane, WA 99202.
---
2018 Partners In Progress Award Honorees
Sir Lancelot Leadership Award

Phyllis Fernandez, Community Partner

Volunteer Shining Star Awards

Amanda Swan, Development Department
Ron Wilson, Domestic Violence Safe Shelter
Claire Carden, Domestic Violence Civil Legal Program
Gabriella Baretti, Domestic Violence Legal Advocacy
Elizabeth Olson, Women's Opportunity Center
Soul to Soles, Leanne Southerly and Harriett Jackson, Early Childhood Education & Assistance Program (ECEAP)

Employee Shining Star Awards

Sherra Bayman, Nutritional Services Coordinator
Jennifer Haynes, Director of Housing
Rachel Cooper, Civil Legal Department Paralegal
Britta Howard, Domestic Violence Counseling Center Advocate
Patricia Portier, Front Desk Receptionist
---
A Mission Partner In Progress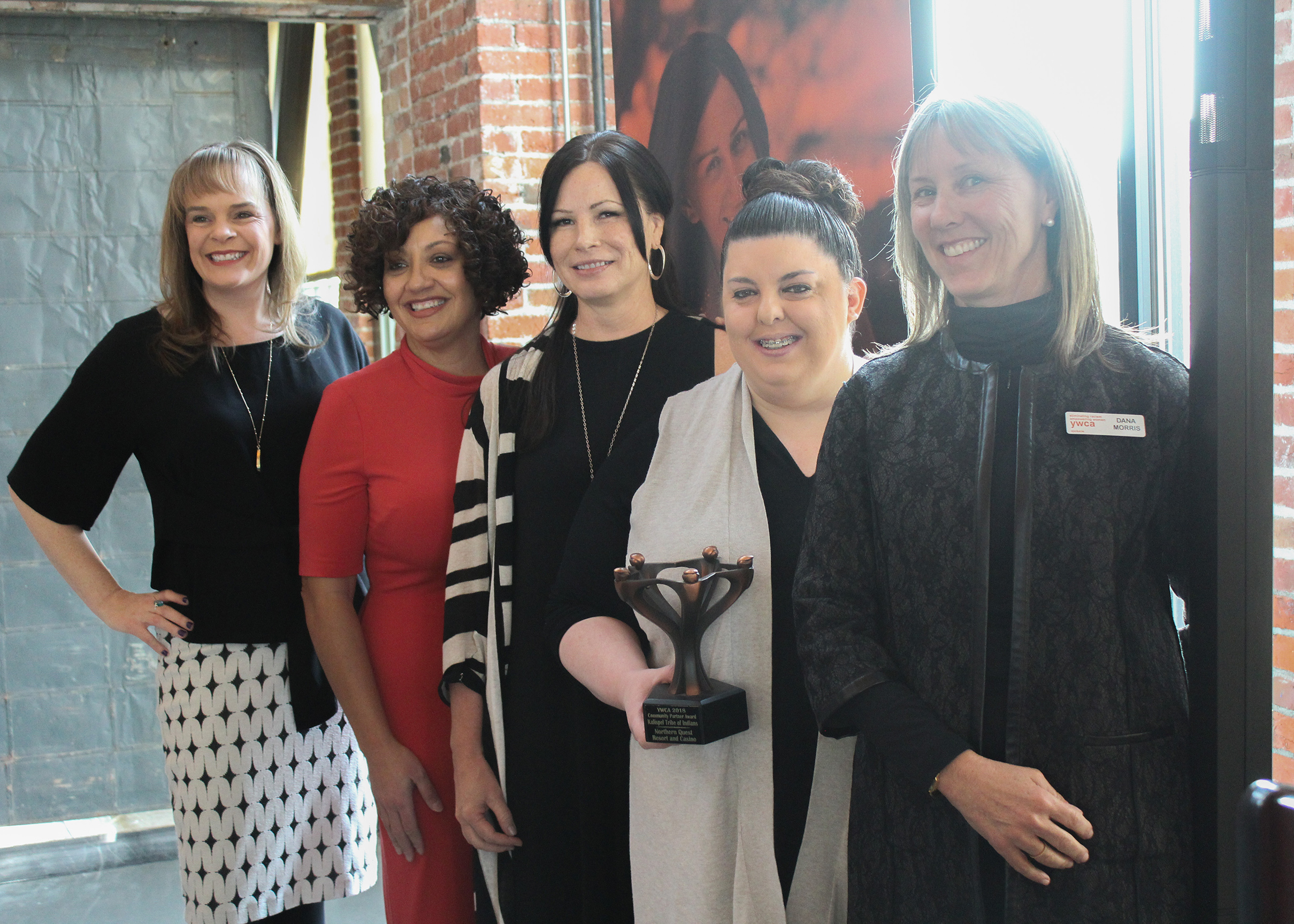 This year, YWCA Spokane had the honor of presenting Kalispel Tribe of Indians with their annual Community Partner Award at the agency's Partners In Progress annual meeting.
Kalispel Tribe of Indians is one of YWCA Spokane's largest long-term supporters, with nearly 20 years of commitment to the agency's work of eliminating racism, empowering women, standing up for social justice, helping families, and strengthening communities. Kaispel Tribe of Indians has donated more than $18 million to local nonprofits in Spokane and Pend Oreille Counties – including nearly $500,000 to YWCA Spokane.
"YWCA Spokane is a valued organization that has provided hope and healing to victims of intimate partner violence and their children for over 115 years," stated Leslie Rogers, Public and Governmental Affairs Program Manager. "I'm truly blessed to work for the Tribe. They truly give back to the community, especially through the Y."
In 2018, Kalispel Tribe of Indians became one of four Mission Partners to YWCA Spokane with a significant 3-year financial commitment that provides a lifeline for women and children in Spokane who are impacted by domestic violence, homelessness, and unemployment.
"Domestic violence is still the number-one cause of 911 calls in Spokane County," says YWCA CEO, Regina Malveaux. "We meet victims and their children at what is often the most traumatic time in their lives. Thanks to our partnership with the Kalispell Tribe, we can provide hope and healing through critical services like our safe shelter, counseling and legal assistance programs, children's services, and job readiness programs."
---
YWCA Spokane Announces 2018 Annual Report
In addition to celebrating valued partners to our agency during this annual meeting, YWCA Spokane also reflects on our 2018 Annual Report and achievements in the previous year. Learn more about our 2018 Annual Report.
---
Photos From YWCA Spokane's Partners In Progress Annual Meeting
Special thank you to McKinstry Co. for providing a beautiful meeting space for this special celebration.