Calendar
Take a look at upcoming events and activities that you can engage in with YWCA Spokane. Click on an event or activity to learn more.
Apr
13
Thu
120th Birthday Celebration!

@ Spokane Public Library - Central (meeting rooms A&B)
Apr 13 @ 3:00 pm – 5:00 pm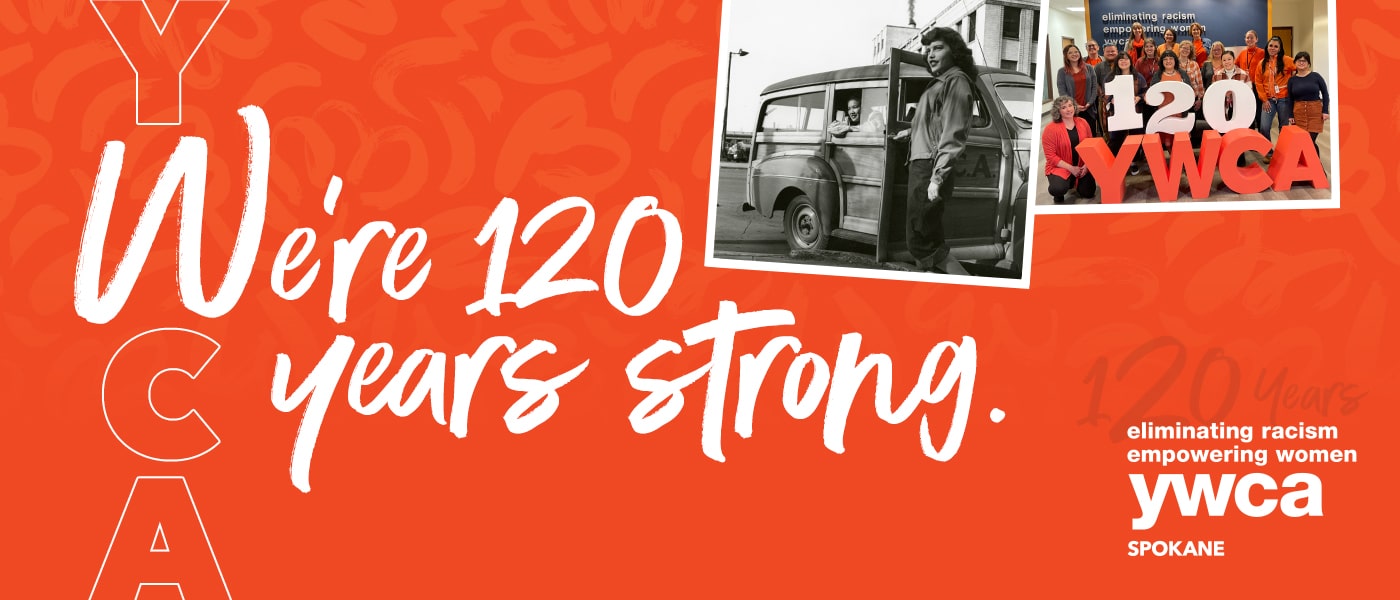 JOIN US
You are cordially  invited to join our Partners In Progress annual meeting where we will reflect on achievements over the past year and celebrate our agency's 120th birthday.  You are a valued part of our agency impact and legacy in Spokane and we look forward to having you join us for this celebration.
Who's Invited: Staff, board, volunteers, and supporters of YWCA Spokane's work and mission in Spokane.
What: Celebrate our impact in Spokane, welcome our 2023 board of directors, and honor key partners in this work.
When: Thursday, April 13th (our official birthday), from 3-5pm
Where: Spokane Public Library – Central, 906 W Main Ave, Spokane, WA 99201
Why: Celebrating our collective achievements is an important part of this work. Coming together to acknowledge the meaningful impact we have had on thousands of lives in our community helps to inspire us and motivate us to continue on. We make progress together. This work takes courage, commitment, and YOU. Join us!
Registration: Please RSVP HERE to join and help us prepare for a successful celebration.
A Treat: Birthday cake and light refreshments will be provided.
Parking: Street meter and parking garages are available nearby.
Questions: email connect@ywcaspokane.org or call 509-378-5804
---
2023 Mission Impact Award
At this gathering, our team at YWCA Spokane would like to take this special opportunity to honor Deb Svoboda with our 2023 Mission Impact Award.
The Mission Impact Award is a nomination-based award that provides staff members with an opportunity to celebrate and honor a "behind-the-scenes" community member who is helping to further the work and mission of our agency and who is making an incredible difference in our community.
About Deborah Vangeison Svoboda, M.S.W., Ph.D.
Deb Svoboda is a volunteer with the Y, serving on the Racial and Social Justice Learning Community since 2021, and supporting staff efforts in the domestic violence program when called upon since 2012. Deb is an advisory board member for M.i.A.-Mujeres in Action, and played a supportive role in the development of the agency with Hanncel Sanchez and others. She is a current board member for the Spokane Regional Domestic Violence Coalition and a member of the SRDVC since 2020. Deb participates in the Vulnerable Adults Task Force organized by Lutheran Community Services NW.
Deb had a rewarding twenty-year social work career as an advocate with domestic violence and sexual assault crisis agencies in Pennsylvania prior to moving to Spokane in 2012. Her current day job is as an Associate Professor and current Graduate Program Director at the EWU School of Social Work. She is happiest having a cup of tea and working alongside others to change the world for the better.
"It is truly an honor to celebrate Deb in this way", states Erica Schreiber, Director of Community Engagement at YWCA Spokane. "She has been an instrumental partner over the years in so many different ways. We are grateful for her dedication to the wellbeing of our community."
Please join us as we celebrate Deb on April 13th with this special award!
---
2023 Community Partner Award
We are excited to acknowledge one of our Mission Partners, Hamilton Studio, with our 2023 Community Partner Award.
Over the past several years, Hamilton Studio has gone above and beyond to support our mission at YWCA Spokane. Each year they contribute their time and talent to help caring individuals in Spokane connect with our work and become part of our community. Through the pandemic, their support was critical to our agency. Because of their partnership and endless support, we were able to pivot during the shutdown and hold our most important fundraisers of the year, An Evening In Tuscany and Women of Achievement awards, virtually.  The virtual events were stunning and well attended due in large part because of their beautiful photography, sound, and film work. We couldn't have been more grateful for their support! As things have calmed from the pandemic, Hamilton Studios continues to support our mission. Most recently they have been a key partner with the celebration of our 2023 Women of Achievement awards and 120th birthday celebration. We hope you join us as we honor and celebrate this amazing partner.
---
Celebrating 12 Decades of Impact in Spokane
Since 1903, we have been providing critical, life changing services to individuals and families in Spokane and the surrounding areas. That's 12 decades of impact! Did you know that our organization started with a $200 donation from local philanthropist John A Finch and a powerful pledge from 90 local Spokane women to "build something for the girls"?  Shortly after, we established a travelers aid program to prevent disappearances of women and girls traveling to Spokane by train, a point in time marking the beginning of our organization's work to combat gender based violence.
---
RSVP Here
---
2023 MISSION PARTNERS
The Mission Partners of YWCA Spokane are committed to bringing peace, justice, freedom, and dignity to our Spokane community, creating a foundation that allows for real and lasting change every day. Together, we will work to eliminate racism, empower women, stand up for social justice, help families and strengthen our community. Their critical financial support bridges the gap between the expenses we incur while serving clients and the grants we receive from state, local, and private parties. These invested leaders embody our mission. Their commitment and dedication bring the promise of support and hope for those struggling with poverty, trauma, homelessness, and despair. With this help, we harvest the potential to build upon our accomplishments from the past and grow the health and sustainability of our critical programs well into the future.
If you or your organization would like to learn more about becoming a Mission Partner to YWCA Spokane, please contact Dana Morris Lee at 509-742-0111 or email danam@ywcaspokane.org. Thank you!
Apr
28
Fri
2023 Equity For All

@ Women's Club of Spokane
Apr 28 @ 5:00 pm – 7:00 pm
The goal of this annual, free, public event is to unite our community in a bold demonstration that delivers a clear message: we are on a mission to eliminate racism. Each courageous conversation provides an opportunity to broaden perspectives, learn new tools, and connect with a diverse community of citizens passionate about eliminating racism in our community.
Equity For All 2023: Ensuring Equity For All!
This year, YWCA Spokane's courageous conversation will align with YWCA USA's national theme: Ensuring Equity For All!
What: Equity For All
Topic: Advancing Equity For All: Mental Wellness in Communities of Color
When: Friday, April 28th, 2023
Time: 5:00pm – 7:00pm

Doors open at 5, followed by performance & panel discussion w/Q&A

Where: Woman's Club of Spokane
1428 W 9th Ave, Spokane, WA 99204
(venue is ADA-compliant)
Cost: Free, open to all (registration required)
Food: Light refreshments will be provided
Accessibility: American sign language interpreter services will be available at the venue. Captions will be available for the virtual audience. The in-person venue is accessible by STA routes 42, 43, and 66.
This event will also be streamed online for virtual audience engagement.
Make sure to check out our blog and social media for updates about this year's event, including information about our panelists and performers! Follow us on Facebook, Twitter, LinkedIn, Instagram, and YouTube.
Questions? Contact equity@ywcaspokane.org or 509-378-4807.
Share about the event on social media with the hashtag #E4ASpokane
---
register here
Jul
28
Fri
2023 An Evening in Tuscany

@ Beacon Hill Events & Catering
Jul 28 @ 5:00 pm – 10:00 pm
An Evening In Tuscany July 28, 2023
Beacon Hill Events
Italian Dinner and Auction Benefit For YWCA Spokane
An Evening In Tuscany is a beautiful Tuscan inspired event benefiting YWCA Spokane's safe shelter and other programs and services for domestic violence survivors in Spokane.
FOR YOUR ENTERTAINMENT
Guests can enjoy a fabulous scratch made Italian dinner prepared by local signature Chef Ellie Aaro with Beacon Hill Events and indulge in treats that will make you feel like you were in Tuscany!
FOR THE LOVE OF ART
Spokane is full of talented artists and entertainers. This fundraiser will provide participants with creative ways to give including a silent and live auction focused on local arts, artists, and entertainment.
FOR A GOOD CAUSE
All proceeds from this Tuscan benefit will support the women, children, and programs at YWCA Spokane, including our domestic violence safe shelter, which is open 24hrs a day 365 days a year.
Join us and make a difference as we gather for a common goal of supporting the peace, justice, freedom, and dignity of the women and children served through YWCA Spokane's programs for survivors of domestic violence.
---
Become a Sponsor Today
View An Evening in Tuscany sponsorship opportunities by clicking the sponsorship levels link below. To secure your sponsorship or learn more about sponsorship opportunities and benefits, contact Dana Morris Lee, YWCA Spokane CPO, at danam@ywcaspokane.org or 509-742-0111. We look forward to exploring possible ways to partner to support the safety and well-being of our community.
Your Impact
$1000 Helps With Childhood Education: Your gift could provide one 3-4-year-old child and their family access to a full year of YWCA Spokane's early childhood education and assistance program.
$500 Helps With Victim Services: Your gift could provide one victim of intimate partner violence with wrap-around support including safety planning, counseling, necessities, protection orders, group support, and emergency services.
$200 Helps Provide Opportunity For Women: Your gift could provide one woman access to our Women's Opportunity Center including resources to help her heal from trauma, build skills, address barriers to employment, and develop economic empowerment for a better future.
$100 Helps Provide Shelter Meals: Your gift could provide food for one victim of domestic violence for a full week while staying at our safe shelter, so survivors can focus on healing from the trauma experienced.
---
View Highlights From Our Virtual 2020 Event
In 2020, YWCA Spokane's Tuscan themed summer benefit was held virtually on July 16th due to public health concerns. If you didn't get a chance to join us for last year's live virtual event, take a look at this beautiful highlights video provided courtesy of Hamilton Studio.
---
Seeking Volunteers
If you would like to volunteer to help us with next year's Tuscany dinner, please contact our Volunteer Coordinator at volunteer@ywcaspokane.org. Thank you!