Women of Achievement 2019
When:
October 11, 2019 @ 11:30 am – 1:30 pm
2019-10-11T11:30:00-07:00
2019-10-11T13:30:00-07:00
Where:
The Spokane Convention Center (Entrance Across From Chilies Restaurant, By DoubleTree)
202 W Spokane Falls Blvd
Cost:
$125 Individual Ticket Available at the door

---
2019 Luncheon Registration
*** Last minute tickets will be available at the door. Thank you! ***
YWCA Spokane's 37th annual Women of Achievement Awards Luncheon is designed to express gratitude for the outstanding contributions of our 2019 award honorees, provide inspiration to the attendees, and raise awareness of domestic abuse in our community. Each year provides a special opportunity to honor high achieving women from Spokane who have gone above and beyond to give back to their community.
This year, YWCA Spokane is also providing a special discounted ticket opportunity for high school age young women to attend the event. Learn more about sponsoring a ticket for a young woman here.
---

2019 Women of Achievement Award Honorees
To be awarded a YWCA Women of Achievement Award, a woman must embody YWCA Spokane's mission of eliminating racism, empowering women, and promoting peace, justice, freedom, and dignity for all. Selected honorees demonstrate leadership through their professional work or service and give generously of themselves to make Spokane a better place for all to live.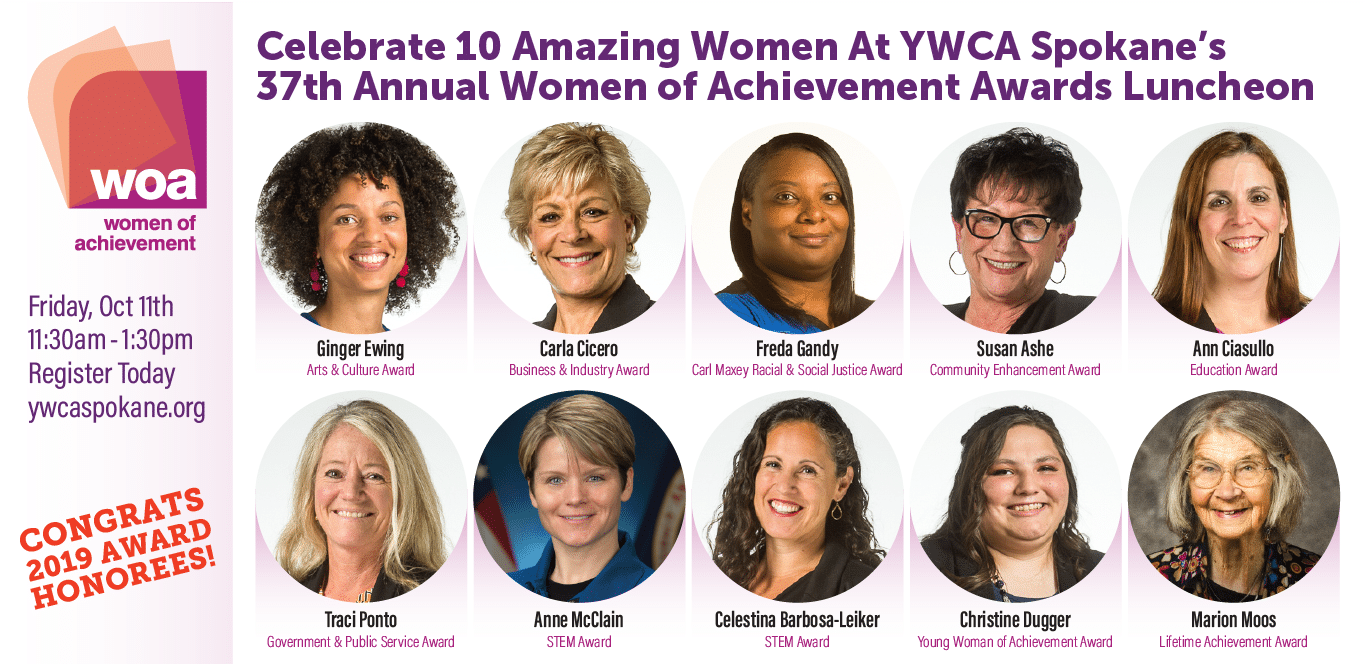 The 2019 Women of Achievement Award Honorees:
Ginger Ewing, Executive Director and Co-Founder, Terrain Spokane – Arts & Culture
Carla Cicero, President and CEO, Numerica Credit Union – Business & Industry
Freda Gandy, Executive Director, MLK Community Outreach Center – Carl Maxey Racial & Social Justice
Susan Ashe, Executive Director, Health Science & Services Authority (HSSA) of Spokane – Community Enhancement
Ann Ciasullo, Professor of English and Women's and Gender Studies and English Department Chair, Gonzaga University – Education
Traci Ponto, Officer, Spokane Police Department – Government and Public Service
Anne McClain, Astronaut, NASA – Science, Technology & Environment
Celestina Barbosa-Leiker, Associate Professor, Washington State University College of Nursing – Science, Technology & Environment
Christine Dugger, Spokane Valley Youth Voice – Young Woman of Achievement
Marion Moos, Spokane's "mother of feminism" – Lifetime Achievement
---

2019 Keynote Speaker – Judge Rosemarie Aquilina
Judge Aquilina presided over the USA Gymnastics Team sex abuse scandal involving Larry Nassar, sentencing him to 175 years in prison for the sexual abuse of young women that lasted more than two decades.  By allowing every woman who said they had been sexually assaulted by Nassar face him in court, despite his guilty plea, many say Judge Aquilina empowered these young women and redefined victim testimony.  She gave 156 "sister survivors" the opportunity to face their abuser in court and share their very personal experiences about how his abuse affected them and their families.
In the sentencing hearing where she gave Nassar multiple life sentences, Judge Aquilina said, "I am not special, I am doing my job.  If you come into my courtroom, any Wednesday and watch sentencing, I give everybody a voice. I give defendants a voice, their families when they're here.  I give the victims a voice.  I try to treat everybody like family because that's the justice system that I was raised to believe in."
"There's likely not a person in this country who hasn't heard of the scandal involving Larry Nassar," said YWCA Spokane CEO Regina Malveaux.  "The real household name should be Judge Rosemarie Aquilina, the woman who sentenced Nassar to a lifetime in prison, and equally as importantly, gave those young women a voice and the opportunity to confront the man who stole so much from them. Judge Aquilina gave those survivors new faith and hope, empowering them to empower themselves."
---
Introducing Y-Inspires
A Special Young Woman Gathering With Judge Aquilina
Judge Rosemarie Aquilina has graciously offered to stay after her keynote address at the Women of Achievement luncheon to leed a special presentation for young women of high school age in our community. Learn more here. 
---

Donate In Honor Of Women Of Achievement
If you are unable to attend this year's celebration of the outstanding achievements of women in our community, consider making a donation in honor of this year's award winners. Thank you for your support!
---

Thank you to our Event Committee!
Thank you all for your commitment to our agency. We could not ensure the success of our biggest event of the year without you all!
Laura McAloon | Co-Chair
Leanne Scott | Co-Chair
Amanda Swan-Roadruck
Amber Williams
Anna Franklin
April Anderson
Caroline Yu
Dana Morris Lee
Debra Schultz
Echo Wilske
Erica Schreiber
Jennifer Mitchell
Julia Culp
Julie Holland
Kate Sowers
Kyla Petcoff
Laura Vickers
Lisa Simpson
Marlene Feist
Mary Alberts
Nicole Rosenkrantz
Paula Tarbert-Gumm
Regina Malveaux
Sara Clements-Sampson
Tara McAloon
Theresa Keyes
---
Please continue to check back in for news about our 37th Annual Women of Achievement Luncheon, or receive our newsletter for updates delivered directly to you!
RECEIVE OUR NEWSLETTER
---

Thank you to our Deeply Valued Event Sponsors!
This awards celebration would not be possible without their incredible support.
Signature sponsor
---
Keynote Sponsor
---
Honoree sponsor
---
GoodGuys sponsor
---
Photobooth sponsor
---
Video Production Sponsor

---
Champion sponsor
---
Trailblazer Sponsors


---
Pioneer Sponsors
---
Corporate sponsors
---
Non-profit sponsors
Catholic Charities Eastern Washington
Eastern Washington University, Office for Diversity & Inclusion
Martin Luther King Community Center
Planned Parenthood of Greater Washington and North Idaho
Spokane Police Major Crimes Unit
Women & Children's Free Restaurant & Community Kitchen
---
YWCA Spokane's Women of Achievement Luncheon is our biggest event of the year, with last year's event gathering over 1,200 dedicated guests and 50 organizations who collectively raised $315,000!

Join YWCA Spokane for our 37th annual Women of Achievement awards luncheon, held this year at the Spokane Convention Center on Friday, October 11th, 2019 from 11:30am - 1:30pm.