When:
October 18, 2021 – October 23, 2021
all-day
2021-10-18T00:00:00-07:00
2021-10-24T00:00:00-07:00
---
DVAM | Donate |  Chalk Walk | YW Table Talk | Survive To Thrive | Pathways Forward | Business Call To Action
---
Support Local Businesses & Survivors During YWCA USA's National Week Without Violence
YWCA associations across the country recognize October 18th – 23rd as Week Without Violence. This year, some of our business partners across Spokane are donating a portion of their proceeds to support our services during this week.
Join us for Shop For A Cause and help us raise critical funds to support survivors by shopping with these business during that week. Your patronage and support makes our services possible and changes the lives of those we serve. Thank you!
Cosmic Cowboy Grill

822 W Main Ave
Spokane, Washington 99201
Donating 10% of all proceeds Friday (10/22) from 3pm to 9pm!
---
Join Us For DVAM Activities Throughout October
Our team at YWCA Spokane is excited to share with you opportunities to engage and step into action throughout October. Learn more about what is in store at ywcaspokane.org/dvam.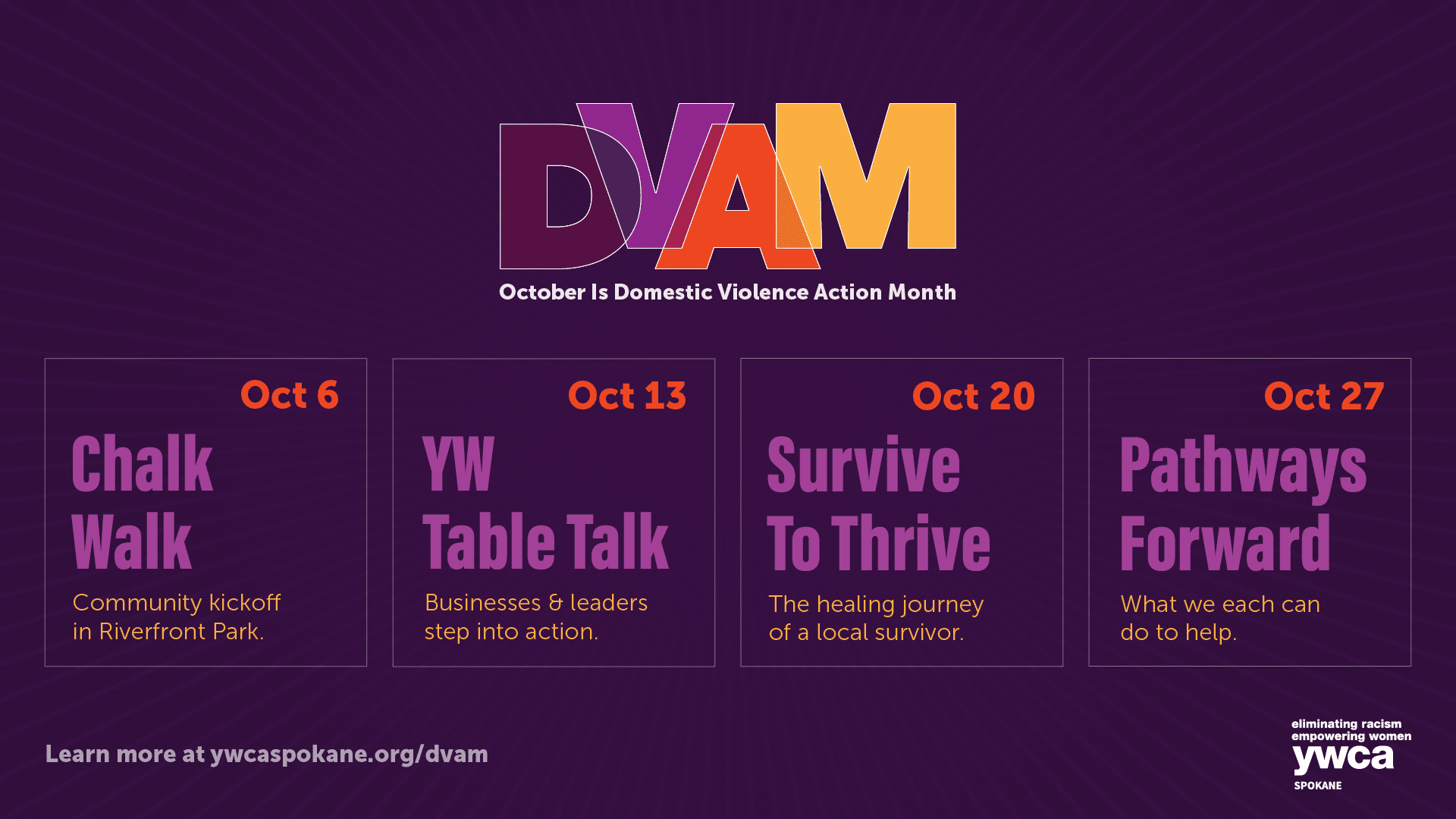 ---
Help YWCA Spokane Raise $50,000 in Critical Funds for Survivors
This October, YWCA Spokane looks to raise $50,000 in order to ensure our free and confidential services remain available to the 16,500 women, men, children, and families who seek us out each year when they are impacted by domestic violence, homelessness, and unemployment.
A reduction in the availability of flexible funding sources, and our inability to hold our traditional fundraising events this year due to the ongoing Covid-19 pandemic, have created an urgent need for unrestricted dollars raised through your support.
Since 1903, we have been helping community members overcome social, economic, and personal barriers in order to accomplish their goals and achieve healthier and more fulfilling lives. Today, areas of focus include supporting victims of intimate partner domestic violence, promoting early childhood education and the economic advancement of women, and confronting racial and social justice issues that negatively impact our clients and our community. You can learn more about our impact in Spokane here.
---
DVAM | Donate |  Chalk Walk | YW Table Talk | Survive To Thrive | Pathways Forward | Business Call To Action