Stand Against Racism 2020
When:
April 23, 2020 @ 5:00 pm – 7:00 pm
2020-04-23T17:00:00-07:00
2020-04-23T19:00:00-07:00
Where:
MLK Jr. / East Central Community Center
500 S Stone St
Spokane
WA 99202


YWCA Is On A Mission To Stand Against Racism
We take a Stand Against Racism every day by raising awareness about the impact of institutional and structural racism and by building community among those who work for racial justice.
This April, 40+ YWCA agencies across the nation will host public events that engage in open and honest dialogue, with over 250,000 people, that confront stereotypes and bias as a community. The goal of the annual event is to unite our community in a bold demonstration that delivers a clear message: we are on a mission to eliminate racism.
Each courageous conversation provides an opportunity to broaden perspectives, learn new tools, and connect with a diverse community of citizens passionate about eliminating racism in our community.
#standagainstracism
---
Stand Against Racism 2020
This year, YWCA Spokane's courageous conversation will focus on racial justice issues that pose barriers to civic engagement for communities of color.
We will explore how the tools of civic engagement can advance the work of justice in our community and empower people of color. As we gear up for both Stand Against Racism and the 2020 Census, we can't stress enough the importance of civic engagement in racial justice work.
Voting rights, census participation, and civic engagement are, and have always been, core components of racial justice. It is more important than ever to support full access and engagement for marginalized communities, especially women and girls of color, in the political process.
Our collective efforts can root out injustice, transform institutions, and create a world that sees women, girls, and people of color the way we do: Equal. Powerful. Unstoppable.
---
Join Stand Against Racism 2020
What: YWCA Spokane's Annual Stand Against Racism
When: April 23rd | Arrive between 5:00pm – 5:30pm | Program is 5:30pm – 7:00pm
Where: MLK Jr. / East Central Community Center
Cost: Free and open to the public (registration required)
Refreshments: food and drinks will be provided
Questions: community@ywcaspokane.org | 509-789-9312
Share:

#standagainstracism
This event is made possible by Providence Health Care and  YWCA Spokane's Racial and Social Justice Committee, led by YWCA Spokane Board Member Dr. Shari Clarke.
---
Event Registration
Please RSVP below to help us prepare for a successful event.
---
Amplify Your Impact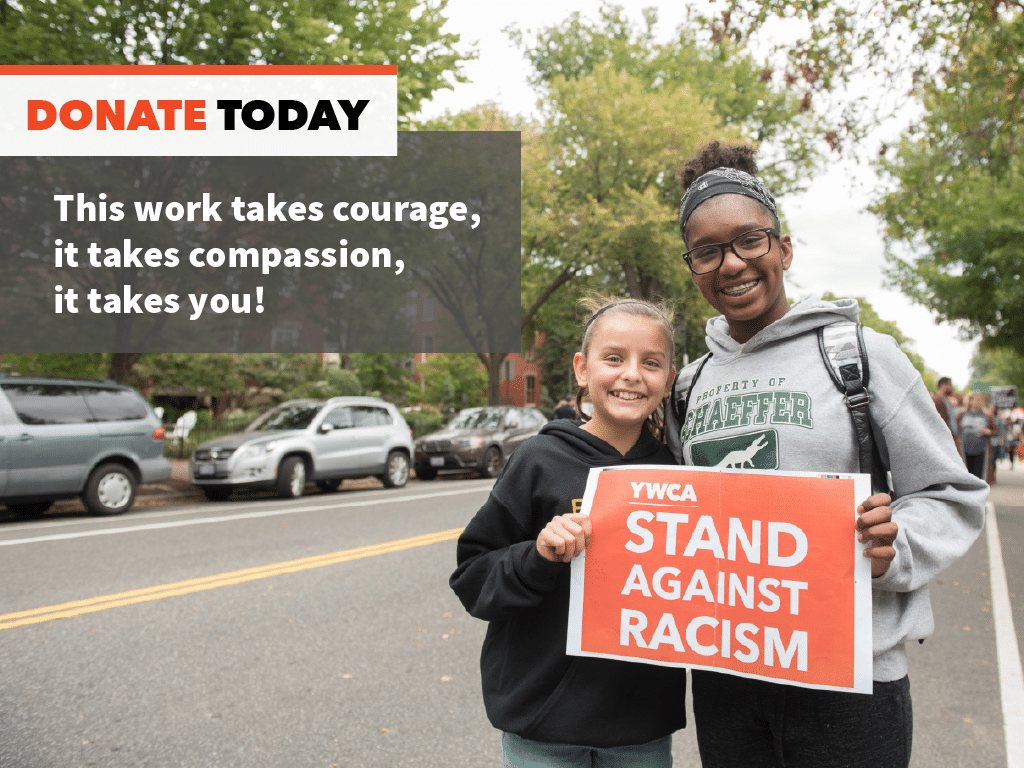 Consider joining our recurring community of monthly donors in support of YWCA's mission and work. Donate Today.
Learn more about Stand Against Racism and other ways to join YWCA Spokane's racial and social justice work.  Learn More.
---
---
YWCA'S NATIONAL STAND AGAINST RACISM PLEDGE
As a part of YWCA National's annual campaign, an opportunity is provided to take a pledge to stand united in our efforts to eliminate racism, empower women, stand up for social justice, help families, and strengthen communities.
During the event, YWCA Spokane will encourage the community to join their pledge to stand against racism by signing a pledge banner which will display at YWCA Spokane's office. Community members will also be encouraged to complete YWCA USA's online pledge listed below.
Please consider joining YWCA and hundreds of thousands of people across the country who will engage with us this week during YWCA's annual Stand Against Racism – and every day.
Stand Against Racism Pledge
Mindful of the continuing affliction of institutional and structural racism as well as the daily realities of all forms of bias, prejudice, and bigotry in my own life, my family, my circle of friends, my co-workers, and the society in which I live, with conviction and hope:
I take this pledge, fully aware that the struggle to eliminate racism will not end with a mere pledge but calls for an ongoing transformation within myself and the institutions and structures of our society.
I pledge to look deeply and continuously in my heart and in my mind to identify all signs and vestiges of racism; to rebuke the use of racist language and behavior towards others; to root out such racism in my daily life and in my encounters with persons I know and with strangers I do not know; and to expand my consciousness to be more aware and sensitive to my use of overt and subtle expressions of racism and racial stereotypes;
I pledge to educate myself on racial justice issues and share what I learn in my own communities even if it means challenging my family, my partner, my children, my friends, my co-workers, and those I encounter on a daily basis;
I pledge, within my means, to actively work to support public policy solutions that prominently, openly, and enthusiastically promote racial equity in all aspects of human affairs; and to actively support and devote my time to YWCA, as well as other organizations working to eradicate racism from our society.
YWCA USA is on a mission to eliminate racism and empower women. I join YWCA in taking a stand against racism today and every day.