Pathways Forward: Domestic Violence Awareness & Action In Spokane
When:
October 27, 2021 @ 12:00 pm – 1:00 pm
2021-10-27T12:00:00-07:00
2021-10-27T13:00:00-07:00
Where:
Virtual Event
Link to access event provided after registration.
Contact:
Jemma Riedel
509-789-9305

---
DVAM | Donate | Chalk Walk | YW Table Talk | Survive To Thrive | Pathways Forward | Business Call To Action
---
JOIN THE CONVERSATION
Pathways Forward is a free, virtual, roundtable discussion series offered by YWCA Spokane designed to pave a path forward.
Our third Pathways Forward event is held during October, which is Domestic Violence Action Month (DVAM). This progress minded community conversation will focus domestic violence and how each us can help.
Spokane County consistently has the highest rates of domestic violence (DV) in Washington state. Over the past 18 months, the stress and isolation brought on by the COVID-19 pandemic and other world events have only served to worsen the situation and increase the need for change. During this year's domestic violence action month, join YWCA Spokane and some of our community partners for a progress minded conversation about domestic violence in Spokane and the role we can each play in responding to it.
YWCA's Pathways Forward Virtual Roundtable Discussion
When: Wednesday, October 27th, 2021 | 12:00pm – 1:00pm
Where: Virtual event, link to access will be provided after registration.
Cost: Free and open to the public (Register below or via the main DVAM page.)
Questions: dvam@ywcaspokane.org | 509-789-9305
Share:

#pathwaysforwardYWCA
Learn more about our Pathways Forward series.
---
Register Today
Register to receive access to the weekly DVAM events and activities including Pathways Forward. Each week we'll provide education that will increase your awareness about Domestic Violence and arm you with real actions you can take to  make Spokane a safer community for all.
Submit your questions!
Please submit any questions you have related to the roundtable discussion for our panelists to review and consider. Deadline to submit questions is 10/22 at 5pm. Additional space will be provided towards the end of the conversation for live engagement with our panelists.
---
Panelists
Hanncel Sanchez
Executive Director at Mujeres in Action
Hanncel Sanchez is a Venezuelan dreamer who moved from Orlando, FL to Spokane, WA in 2016. While going to EWU, she volunteered as a sexual assault victim advocate with Lutheran Community Services Northwest. It was through that work that Hanncel noticed an opportunity to serve her Latinx community in a culturally responsive way. In 2018, Hanncel founded MiA – Mujeres in Action to support survivors of domestic violence and sexual assault, and educate the community to end family violence from a Latinx perspective. Since then, Hanncel has been working to bridge gaps and expand life saving services to her community.
---
Krista Colvin
Family Violence Program Manager Spokane Tribe of Indians
I am Krista Colvin, a Spokane tribal member with an MSW from EWU. I have resided on a piece of land that consists of about 153,000 acres that the Spokane Tribe owns. I have 4 children total with my fiancé Robert Seyler who are also part of the tribe and we have resided on the reservation for 20+ years now. When I went to school for my Masters in Social Work it was not geared towards anything, but one goal. I wanted to fill a position within the Spokane Tribe that I could make a difference in or assist in any way. I have been with the Spokane Tribe since 2016, but my journey began October of 2020 as the Family Violence Manager, for a position that was vacant for quite some time and a position that no one applied for. Our team consists of an advocate, elder advocate, advocate coordinator, and manager. Domestic Violence is hard to combat out here in a rural cultural community, but I know Domestic Violence is happening everywhere. In Wellpinit, WA we lack emergency housing, and everything is 40 plus miles away in any direction for emergency placement. We do our best with what limited resources we have, but someday, we hope to do more. We hope to establish emergency housing in Wellpinit, WA where survivors can heal on their land without being displaced from their elders or cultural healers. Emergency housing that is short-term and long-term depending on what the survivor is ready for. We have a vision where we will continue to advocate against Domestic Violence in any way that we can, in hopes that it will not be normalized, that it will not be over looked and that perpetrators will be held accountable to the full extent of their crimes.
---
Erin Williams Hueter
Inland Northwest District Director at Lutheran Community Services Northwest
Erin Williams Hueter is a mom, wife, friend, daughter, and sister who is proud of her career making her hometown of Spokane, Washington the best place to live it can be. Erin has been working in human services and violence prevention since the mid 1990's, and has been part of the innovative trauma recovery work at Lutheran Community Services Northwest since 2001. Impactful programs, staff engagement, and community engagement are passions of Erin's in addition to music, movies, cooking and wellness in her personal life. During her career, Erin has been honored to present at many conferences and workshops about the impact of violence, creating a balanced life for a long career, victim rights, human trafficking, child abuse and more. She currently serves on the Board of Directors for Transitions, the Spokane Regional Domestic Violence Coalition, and Spokane County United Way as well as the Washington Task Force Against the Trafficking of Persons. She's also proud to be a subject matter expert on trauma for many local media outlets and community partners who enjoys innovative partnerships for maximum impact.
---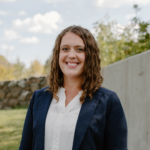 Morgan Colburn, LICSW
Director of Advocacy Support at YWCA Spokane
Morgan Colburn is the Director of Advocacy Support at YWCA Spokane where she oversees the support and legal advocacy services. Morgan received her Masters of Social Work in 2012 and is a Licensed Independent Clinical Social Work. She started her career with YWCA in 2013 as a domestic violence advocate working co-located in the DSHS office assisting families receiving state benefits and she transitioned to Director in 2016. Her previous experience includes working as a volunteer with Alternative to Violence of the Palouse, running a violence prevention program for adults with intellectual and developmental disabilities at The Arc of Spokane, and participating in a 18-month national Advocacy Learning Center training course.
---
Moderator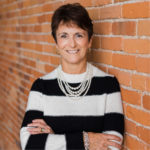 Jeanette Hauck
Chief Executive Officer, YWCA Spokane
With 10 years of experience leading YWCA Spokane as part of the executive team, Jeanette was just named as the agency's new Chief Executive Officer this month, March of 2021. Jeanette first joined the agency in 2011 as the Director of Finance and was promoted to Chief Financial Officer in 2014. She first succeeded Regina Malveaux, who transitioned in August 2020, as the agency's interim CEO.
The financial management of program expansion and delivery has been a key focus of her activities since joining YWCA Spokane in 2011. During her tenure as CFO, Hauck lead the organization from a staff of 60 to a team of over 90 employees.
Hauck is dedicated to advocating for women, youth, and children and has served on a number of boards aimed at supporting healthy families, including Vanessa Behan in Spokane. She began her career in the non-profit sector nearly 30 years ago as the Director of Finance of the Institute for Drug Development and the Cancer Therapy and Research Center in San Antonio, now part of the University of Texas Health Science System.
---
Thank You To Our Key Partners
This educational series would not be possible without the support of our valued 2021 Partners; our Mission Partners: Kalispel Tribe of Indians, MultiCare, Numerica Credit Union, Providence Health Care, and Hamilton Studio; our 2021 Freedom Partners: Northwest Farm Credit Services, Inland Imaging, and Garco Construction; and our event sponsor for this month's Pathways Forward discussion: Horizon Credit Union.
If your organization would like to make an incredible impact in Spokane this year, consider joining YWCA Spokane as a 2021 Corporate Partner.
2021 Mission Partners
---
2021 Freedom Partners
---
Join Us For DVAM Activities Throughout October
Our team at YWCA Spokane is excited to share with you opportunities to engage and step into action throughout October. Learn more about what is in store at ywcaspokane.org/dvam.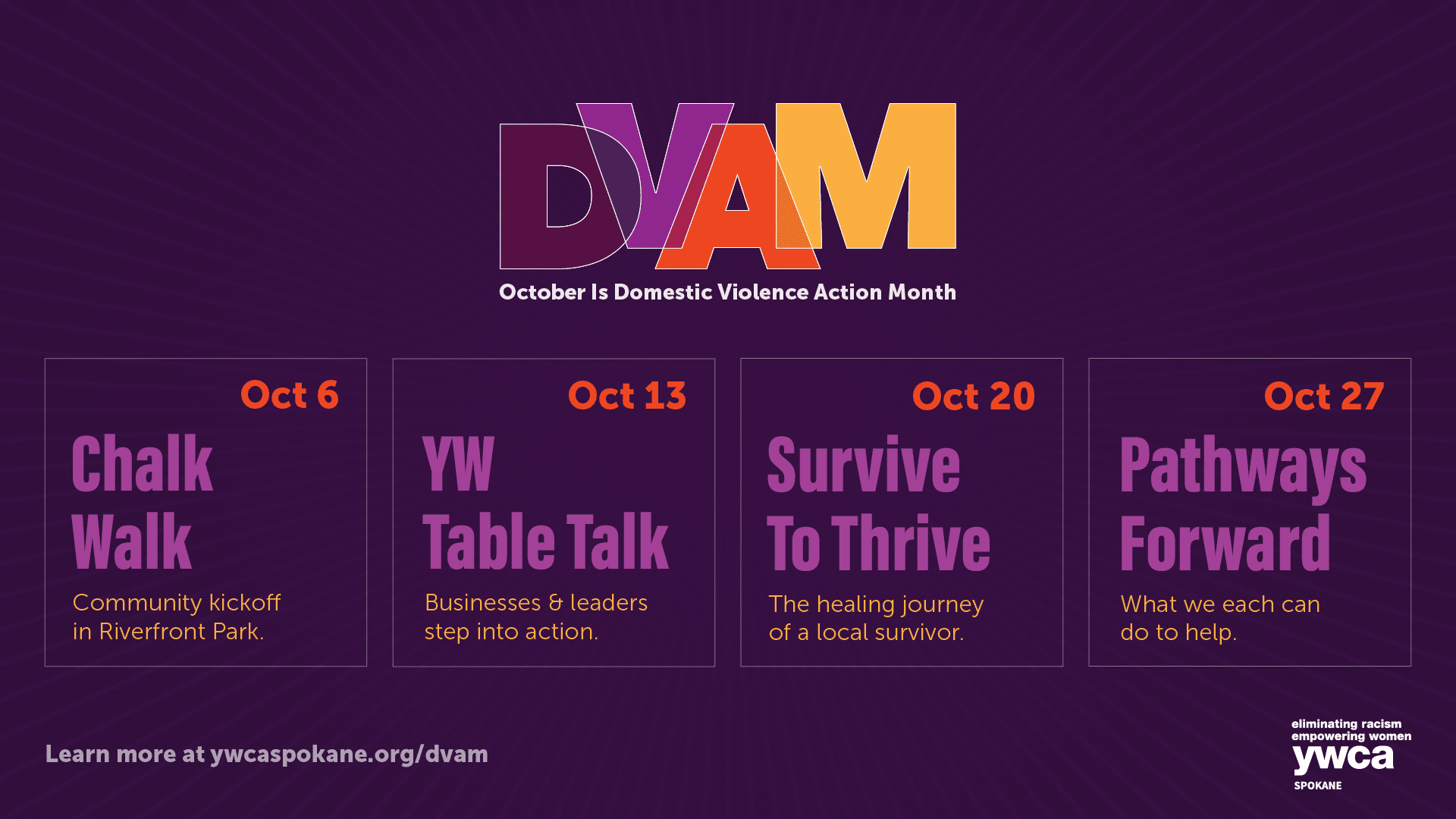 ---
Help YWCA Spokane Raise $50,000 in Critical Funds for Survivors
This October, YWCA Spokane looks to raise $50,000 in order to ensure our free and confidential services remain available to the 16,500 women, men, children, and families who seek us out each year when they are impacted by domestic violence, homelessness, and unemployment.
A reduction in the availability of flexible funding sources, and our inability to hold our traditional fundraising events this year due to the ongoing Covid-19 pandemic, have created an urgent need for unrestricted dollars raised through your support.
Since 1903, we have been helping community members overcome social, economic, and personal barriers in order to accomplish their goals and achieve healthier and more fulfilling lives. Today, areas of focus include supporting victims of intimate partner domestic violence, promoting early childhood education and the economic advancement of women, and confronting racial and social justice issues that negatively impact our clients and our community. You can learn more about our impact in Spokane here.
---
Learn More About Intimate Partner Domestic Violence
Consider going through our free From Survive To Thrive educational series with your friends, family, and co-workers to learn more about intimate partner domestic violence and approach YWCA Spokane's confidential advocates take to support survivors.
---
DVAM | Donate | Chalk Walk | YW Table Talk | Survive To Thrive | Pathways Forward | Business Call To Action