---
DVAM | Donate | Chalk Walk | YW Table Talk | Survive To Thrive | Pathways Forward | Business Call To Action
---
A Community Kickoff Event
October is nationally recognized as Domestic Violence Action Month (DVAM) and YWCA Spokane is excited to kick off the month with a free, public Chalk Walk event focused on spreading awareness and domestic violence, welcoming partners to join us for a month of activities, and to let survivors know they are not alone.
Celebrate the start of DVAM with our team at YWCA Spokane as we write and draw messages for the community in Riverfront Park. Share your stories, affirmations, definitions of healthy relationships, and more with us through chalk.
Join us anytime between 12pm – 3pm to be part of the celebration! Purple, orange, and white chalk will be provided. You are welcome to bring additional colors if desired.
Event Details:
When: Wednesday, October 6th, 2021 | 12:00pm – 3:00pm
Where: Riverfront Park Spokane, along the Howard Street Promenade
Cost: Free and open to the public
Questions: dvam@ywcaspokane.org | 509-789-9305
Share: Facebook Calendar Event
---
Chalk Walk Message Ideas
In addition to joining us downtown in Riverfront Park on Oct 6 from noon – 3pm, you can also participate from home or from the sidewalks outside your place of work! Using your own sidewalk and chalk, you can help shine a light for survivors across our community. We'd love to see your art and messages, so be sure to share online with #PaintSpokanePurple and #ywcadvam!
Below are some reflection questions and response ideas, if you would like inspiration.
Here are some reflection questions to consider:
How can we support survivors?
What would be helpful for a survivor and their family to hear?
What makes a healthy relationship?
What could make Spokane safe and healthy for all?
Here are some suggested messages you can write on the sidewalks downtown, at your place of work, or in your neighborhood:
You are not alone
You are capable
You are enough
You are worthy of love
Be kind
I believe survivors
Love is respect
Abuse isn't always physical
---
View The Photo Gallery
Thank you so much for joining us at our Chalk Walk DVAM event! Your participation helped spread awareness and uplift Spokane with affirming messages for survivors. We encourage you to check out our recap blog post to see the photos from the event and more. 
---
Thank You To Our Chalk Walk Event Partner
Thank you Riverfront Spokane for co-hosting this event and spreading DV awareness!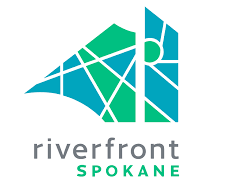 ---
Join Us For DVAM Activities Throughout October
Our team at YWCA Spokane is excited to share with you opportunities to engage and step into action throughout October. Learn more about what is in store at ywcaspokane.org/dvam.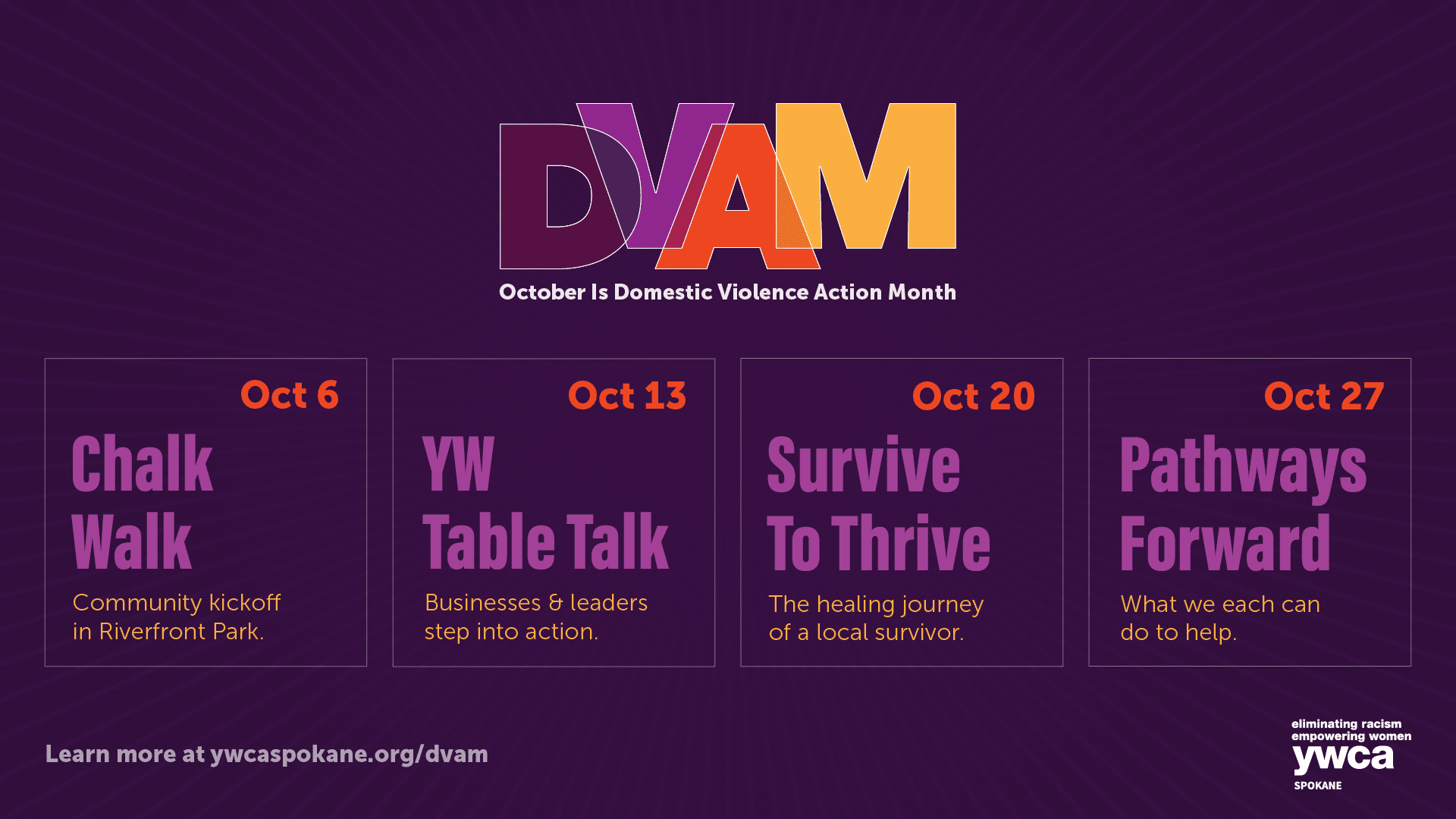 ---
Help YWCA Spokane Raise $50,000 in Critical Funds for Survivors
This October, YWCA Spokane looks to raise $50,000 in order to ensure our free and confidential services remain available to the 16,500 women, men, children, and families who seek us out each year when they are impacted by domestic violence, homelessness, and unemployment.
A reduction in the availability of flexible funding sources, and our inability to hold our traditional fundraising events this year due to the ongoing Covid-19 pandemic, have created an urgent need for unrestricted dollars raised through your support.
Since 1903, we have been helping community members overcome social, economic, and personal barriers in order to accomplish their goals and achieve healthier and more fulfilling lives. Today, areas of focus include supporting victims of intimate partner domestic violence, promoting early childhood education and the economic advancement of women, and confronting racial and social justice issues that negatively impact our clients and our community. You can learn more about our impact in Spokane here.
---
Learn More About Intimate Partner Domestic Violence
Consider going through our free From Survive To Thrive educational series with your friends, family, and co-workers to learn more about intimate partner domestic violence and approach YWCA Spokane's confidential advocates take to support survivors.
---
DVAM | Donate | Chalk Walk | YW Table Talk | Survive To Thrive | Pathways Forward | Business Call To Action