eNews Editions: March | April | May | June | July | August | September

---
When WE KNOW, WE GROW
---
From Regina Malveaux, YWCA Spokane CEO

Two years ago at this time, we watched the #MeToo movement trend on social media. Because of the awareness and exposure built from that movement, more survivors than ever are getting the help they need to take back their lives.
A focus on building awareness and education matters if we want to create sustainable change. In order to grow as a community, we need to know what problems we are facing. With this foundational understanding, efforts this fall have been focused on providing education and awareness about domestic violence within our community.
In addition to partnering with the Spokane Regional Domestic Violence Coalition to launch the End The Violence campaign, YWCA also engaged in our 4th annual End The Silence movement to let survivors know they are not alone. We also held our largest and most critical benefit, the Women Of Achievement awards luncheon, that engaged 1300+ attendees in the devastating realities of family trauma and violence in our great city.
This October we enjoyed the opportunity to host members of the local judiciary and their assistants in a lunchtime dialogue about services available to victims and how the courts can be more trauma-informed while retaining their neutrality. We also met with members of Spokane City Council during a study session to discuss the inner workings of our safe shelter and what we can do as a community to better support victims of violence.
The collective impact of these important conversations and the personal and professional commitments we have received to end violence in our community are vital to activating real and lasting change. While meeting with so many passionate community partners, we have been reminded of how far we've come — and how much further we still have to go.
We can't do this work alone. We need partners like you who understand that domestic violence is a community issue, one that will take all of us to end. Thank you for continuing to stand with us today and each day moving forward. Thank you for knowing that this work takes courage, commitment, and you.
With deep gratitude,
---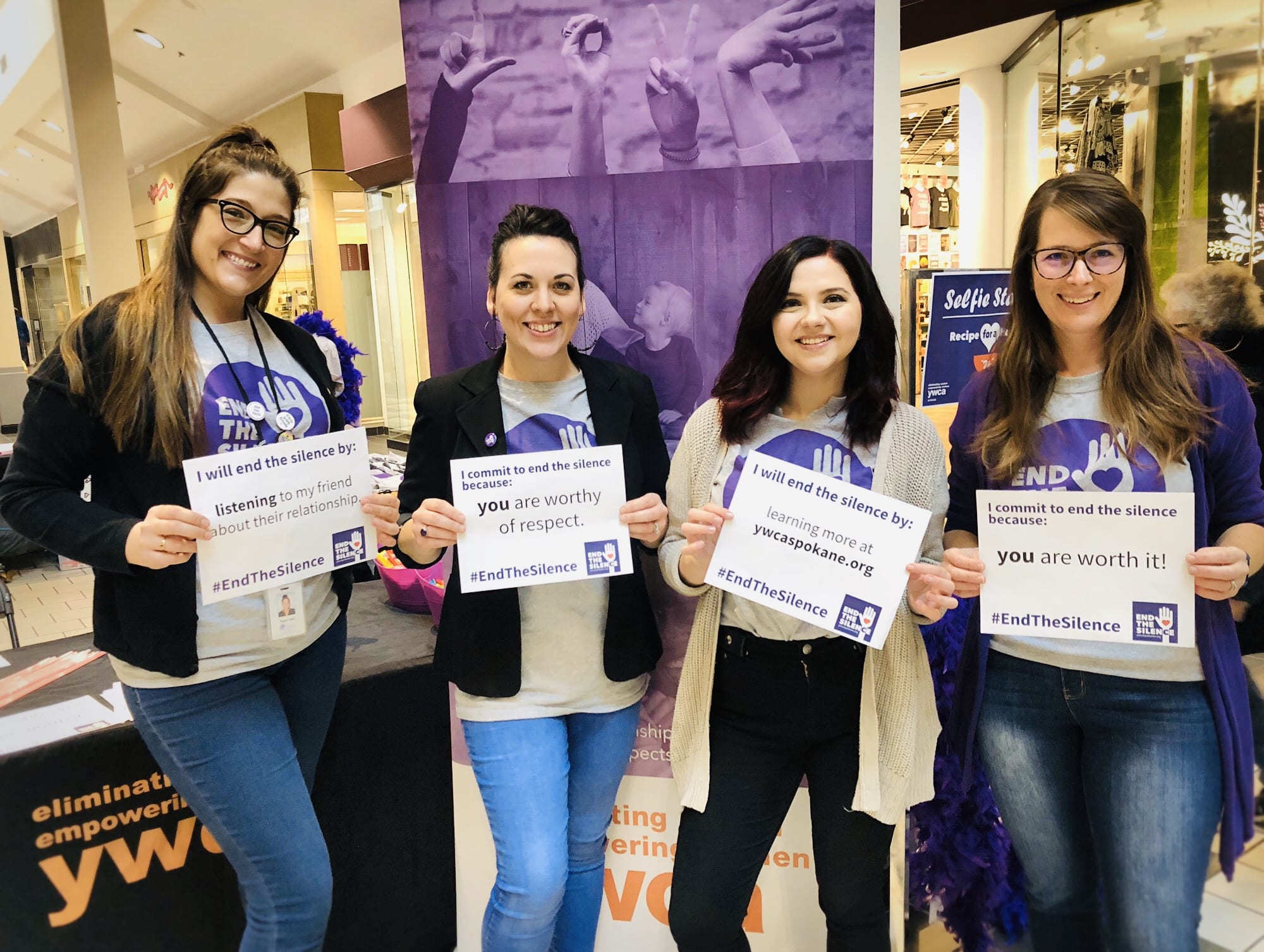 YWCA Celebrates 4th Annual End The Silence Campaign
October 31st marks the last day of YWCA Spokane's local campaign to End The Silence during Domestic Violence Action Month. We are deeply grateful for the many community partners who joined us as we make a public display of awareness letting survivors of intimate partner violence know they are not alone.
---
YWCA Study Session With Spokane City Council Members
Representatives from YWCA Spokane met with members of City Council to discuss our longtime partnership with the City, the current overwhelming issue of family violence and trauma within Spokane, and YWCA Spokane's vital programs and services.
---
Discussing Domestic Violence With Judicial Representatives
This October YWCA Spokane enjoyed the opportunity to host several members of our local judiciary and their judicial assistants for a lunchtime dialogue about programs and services available to victims of domestic violence and how courts can be more trauma-informed while retaining their neutrality.
---
YWCA Staff Member Joins World YWCA Council
Congratulations to Kate Sowers, YWCA Spokane staff member, for receiving a competitive scholarship to join the 29th World YWCA Council held in Johannesburg, South Africa this November.
---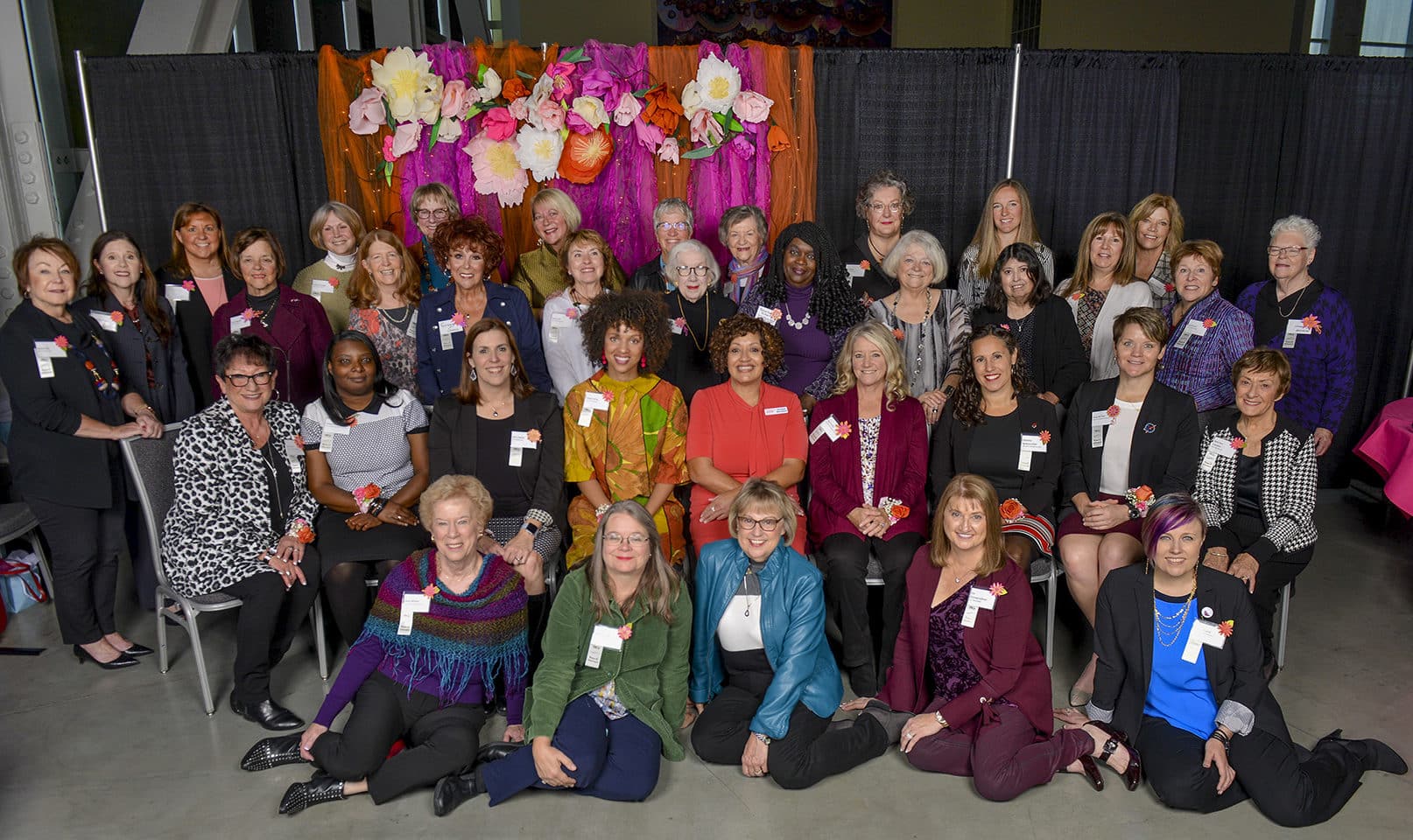 Women of Achievement 2019 – A Great Success
With over 1300 attendees, YWCA Spokane was proud to celebrate the outstanding achievements of 10 amazing women at our 37th annual Women of Achievement awards luncheon. Not only did we have record-breaking attendance, we raised a record-breaking amount. Thank you to all who make our most important annual fundraiser a great success.
---
Hope For The Holidays 2019: Adopt-A-Family Wishlist Program
For many YWCA Spokane supporters, this is there most favorite way to engage and support the women, children, and families that we serve during the holiday season. Take a moment to review this year's Hope For The Holidays campaign, our adopt-a-family wishlist program. Your contributions are sure to make this holiday season a little brighter for those we serve.
---
Self-Care Provided Through YWCA's Expressive Arts Group
"You Matter and Matter Absolutely" are the words Teresa, YWCA Spokane Expressive Arts Facilitator, uses to guide her approach when leading her art expression class focused on helping survivors of domestic violence who are working to get back on their feet after setbacks in life.

Legacy Giving
You have the potential to do something extraordinary, and be remembered forever for the legacy you left behind. YWCA Spokane's Legacy Circle recognizes individuals who plan to make future gifts through their estates.
---

Your Actions Make A Difference!
There are many ways you can help YWCA Spokane continue to be a lifeline for thousands of women, children, and families in Spokane.
Donate today, hold a clothing drive, attend an event, schedule a domestic violence training, or share information about YWCA Spokane on social media. Your actions make a difference! We count on the support of friends like you so we can continue to provide trauma-informed, comprehensive services to an average of 325 women and children every single week! That's an average of 46 people a day!
Your support sends a powerful message of hope and healing to survivors. By supporting YWCA Spokane you let the 16,000+ women, children, and families we serve each year know that they count, their story matters, and that their community is here to support them.
Your investment transforms lives: one child, one teen, one woman, one family at a time.
Thank you for all you do!
---
Learn more about our circle of Visionary Leaders.