---
DVAM | Donate | Chalk Walk | YW Table Talk | Survive To Thrive | Pathways Forward | Business Call To Action
---
YWCA Spokane Invites Local Businesses To Shine A Light For Survivors During Domestic Violence Action Month (DVAM)
Together, We Inspire Real & Lasting Change
This October, for national Domestic Violence Action Month (DVAM), YWCA Spokane seeks to join together local businesses and community members in a true sense of unity to raise the collective awareness about domestic violence and prompt action focused on making Spokane a safer community for all.
There is no limit to how domestic violence can impact our community. Spokane has the highest rate of domestic violence in Washington State with 1 in 3 women and 1 in 10 men impacted by domestic violence. To address this devastating issue, we must come together, spread awareness, and step into action.
---
How Your Organization Can Take Action
Organizations who sign up to participate through one or more of the below opportunities will be highlighted as a partnering agency or business and shared with our list of engagement opportunities throughout October.
Paint Spokane Purple
Purple is the nationally designated color for domestic violence awareness. For survivors, the color can be a symbol of peace, courage, survival, honor, and dedication to ending violence. Help create a united, visual campaign throughout the city by displaying awareness raising DVAM materials and incorporate purple into your wardrobe, décor, and lights to show the community that you stand with survivors.
Simply agree to share and wear these materials during the month of October and we will provide a complimentary swag kit with flyers, posters, window clings, and pins for your business and employees. Kits will be available for pick-up from YWCA Spokane (930 N Monroe St).
Sponsor DVAM Banners Downtown
Sponsor one or more of the 8 downtown Spokane zones and have your company name listed on custom DVAM banners that will display throughout October and into November. See flyer for details.
Shop for a Cause
For businesses that have the capacity to participate, please join us for our Shop for a Cause week, October 18 – 23, which is recognized by YWCA associations across the country as Week Without Violence.
Help raise critical funds to support survivors served by YWCA Spokane by donating a portion of your proceeds to this effort.
Partner With Us
Businesses who feel passionate about this work are welcome to join YWCA as a financial partner and support our month-long awareness and action campaign. If you would like to partner with YWCA Spokane as a sponsor of Domestic Violence Action Month, please contact Briana Berner at dvam@ywcaspokane.org or call 509-789-9305.
---
Register
All businesses who sign up below (make sure to check the box to register as an organization) to help us build awareness about Domestic Violence Action Month will be acknowledged on our website and through our social media channels. Thank you for stepping into action this October!
---
Join Us For DVAM Activities Throughout October
Our team at YWCA Spokane is excited to share with you opportunities to engage and step into action throughout October while helping to raise $50,000 in critical funds for survivors service by YWCA Spokane. To sign up as an individual to learn more about our events and activities, sign up at ywcaspokane.org/dvam.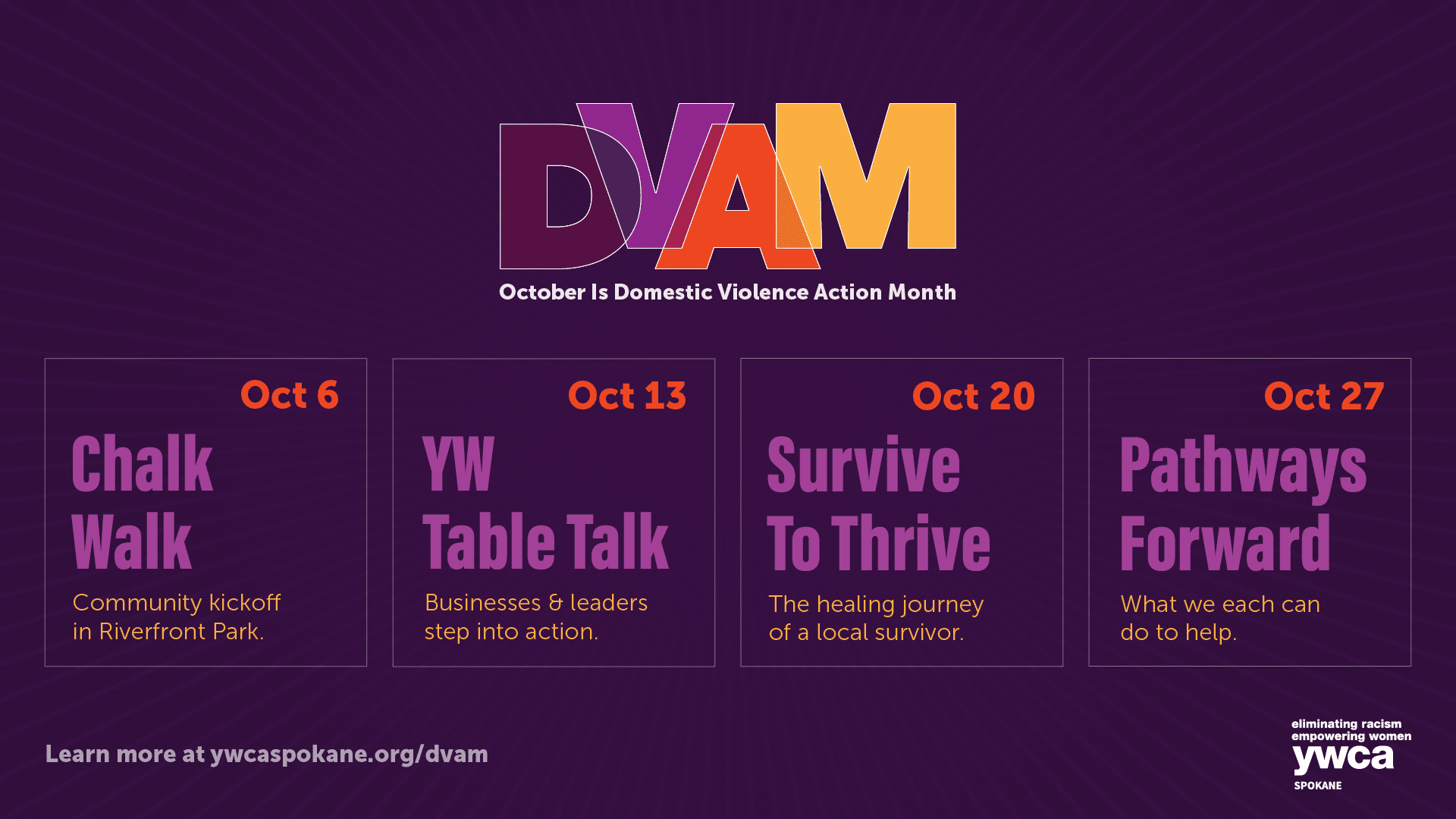 Learn More About Intimate Partner Domestic Violence
Consider going through our free From Survive To Thrive educational series with your friends, family, and co-workers to learn more about intimate partner domestic violence and approach YWCA Spokane's confidential advocates take to support survivors.
---
Thank you for taking a stand against domestic violence with YWCA Spokane! 
---
Special Thanks To Our Key Partners
YWCA Spokane Mission Partners
Domestic Violence Action Month Partners
Organizations Shining A Light
JITA City Church
Lakeside Electric
Miss Fashion Global
New Horizon Care Centers PCAP
Real Life Women
---
If you would like to partner with YWCA Spokane as a sponsor of Domestic Violence Action Month, please contact Briana Berner at dvam@ywcaspokane.org or call 509-789-9305.
---
DVAM | Donate | Chalk Walk | YW Table Talk | Survive To Thrive | Pathways Forward | Business Call To Action