Women of Achievement Alumnae attending the 2023 luncheon.
Together, with the support of our guests and event sponsors, we raised over $330,000 at YWCA Spokane's 41st year of the Women of Achievement Awards Luncheon.
On Thursday, March 9th, 2023, YWCA Spokane gathered together with 1,000 amazing friends and supporters from the Spokane community to celebrate the outstanding accomplishments of 9 incredible women in our community and YWCA Spokane's 120th birthday.
Thank you so much to everyone who joined us for this special celebration. This event provides our community with the opportunity to honor extraordinary women who make a real difference in Spokane. This luncheon allows YWCA Spokane to spread awareness about its mission to eliminate racism and empower women.
---
Thank You For Supporting Survivors and Families!
As our largest and most critical fundraiser, the support given at this event helps YWCA Spokane continue to provide vital programs and services to thousands of domestic violence survivors, children, and families each year. The gifts made at this event are already bringing hope, shelter, and resources to those who need them the most.
THANK YOU for creating a pathway for survivors to find safety, recovery, and success in their lives.
Thank you to our amazing 2023 Sponsors and the over 400 individual donors who helped us raise $330,000 to support YWCA Spokane's critical services. On behalf of the thousands of survivors, children, and families we will serve this year who are impacted by domestic violence, homelessness, and unemployment, we thank you!
The 2023 Women of Achievement Awards also marked the launch of our endowment, the YWCA Spokane Forever Fund. A group of generous donors helped lay the foundation of the Forever Fund at the event, helping us create a new legacy and ensuring that survivors can receive services not just today but forever.
Help us reach our $400,000 spring fundraising goal by giving below.
---
Celebrate our Honorees!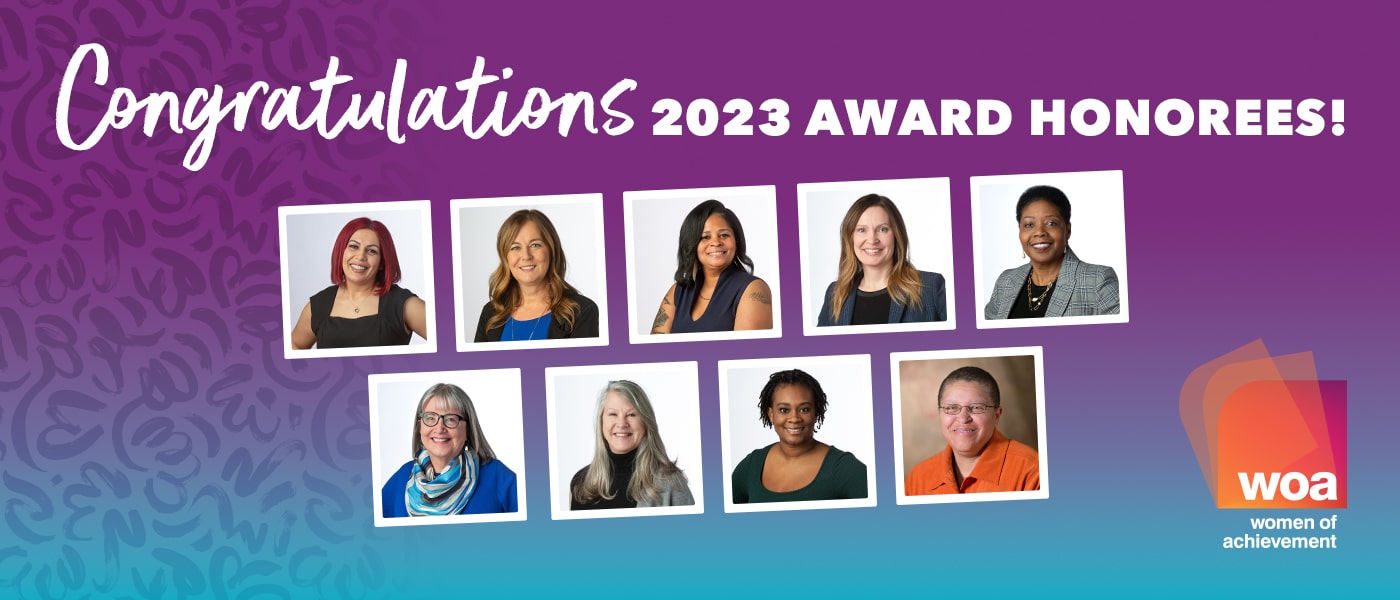 Established with the goal of increasing community awareness and appreciation for the diverse contributions of women leaders in Spokane, YWCA Spokane has honored more than 260 women in the region through this special awards ceremony. View all our past honorees here. Click below to learn more about our incredible 2023 award honorees!
---
2024 Women of Achievement Nominations Are Now OPEN!
Winners of a YWCA Women of Achievement award embody the mission of YWCA Spokane by giving generously of themselves to make Spokane a better place for all citizens to live. They must demonstrate leadership through their professional work or service to the community. The deadline for submissions is October 31st 2023.
---
Fotokabinen-Spaß beim diesjährigen Mittagessen festgehalten
Take a moment to enjoy event photos by  James & Kathy Mangis Fotografie and be sure to check out the photo booth photos from Electric Photoland here.