DAY 9 Of YWCA Spokane's 14-Day Racial Equity & Social Justice Challenge
We hope this challenge provides you with an opportunity to better understand concepts related to race, power, privilege, and leadership.
---
DAY 1 | DAY 2 | DAY 3 | DAY 4 | DAY 5 | DAY 6 | DAY 7 | DAY 8 | DAY 9 | DAY 10 | DAY 11 | DAY 12 | DAY 13 | DAY 14
---
Thank you for taking this challenge! If this is your first day of joining us for the 14-day equity challenge, welcome. If you are returning after previous engagement with the challenge, nice work! We are glad you are here. From Monday, June 15th through Sunday, June 28th, YWCA Spokane will send, those who sign up for our challenge, daily emails prompting you to take time to learn about racial equity and social justice.
We encourage you to take note of any insights in a daily log or diary. Consider setting aside time to talk with friends about what you have learned and how the topics introduced impact our community. Invite your network to join you on this challenge and share on social media with #ywcaequitychallenge. Thank you for participating!
---
DAY 9: Inequities In The Legal System
---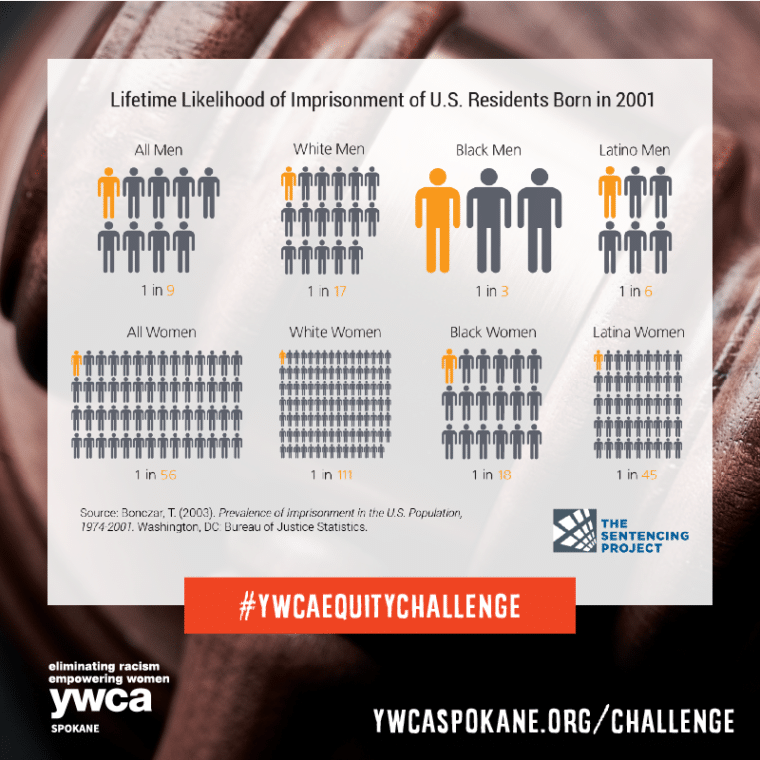 The legal system is an institution that works to distribute justice while often perpetuating inequities within the communities it aims to protect. Over-policing, excessive use of force by law enforcement, lack of access to adequate legal aid, and mass incarceration all disproportionately affect communities of color. 
America's approach to punishment often lacks a public safety rationale, disproportionately affects minorities, and inflicts overly harsh sentences. According to a report by the U.S. Department of Justice, "Prevalence of Imprisonment in the U.S. Population, 1974-2001," as shared by The Sentencing Project, 1 out of every 3 Black males born today can expect to go to prison in his lifetime, as can 1 out of every 6 Latino males, compared to 1 out of every 17 white males. In addition, women are the fastest-growing incarcerated population in the United States with an increase of 716% since 1980.
Despite making up close to 5% of the global population, the U.S. has nearly 25% of the world's prison population. Since 1970, our incarcerated population has increased by 700% to 2.3 million people in jail and prison today, far outpacing population growth. Evidence has confirmed these disparities for many years yet significant action has yet to be taken by those in power across the nation.
The increased documentation of acts of police brutality shared through social media combined with the efforts of social justice organizers has drawn wide-spread public attention towards matters of racial injustice, something communities of color have recognized and reckoned with for generations. 
The brutal torture and death of George Floyd by on-duty Minneapolis police officers on May 25th, 2020 incited outrage within communities across the nation. Massive waves of public support for black lives have begun to inspire a shift in priorities within many communities, organizations, and institutions. 
Racism has no place in the America we all deserve. It is the duty of those of us who hold various types of privilege to recognize that the injustice in the criminal justice system is not new; it requires diligence and dedication from all of us to educate ourselves and to hold those in seats of leadership and power accountable for making the changes needed for true racial equity and social justice.
---
If you have…
---
10 Minutes

and

15 Minutes

and

30 Minutes

and

and

Read this article 


exploring the Washington Post's database of every fatal shooting made by a police officer nationwide, since 2015.

and

Watch this TED Talk 


by Baratunde Thurston who explores the phenomenon of white Americans calling the police on black Americans who have committed the crime of "living while black."

and

Listen to this podcast


from Black Lives Matter addressing the killing of Breonnna Taylor, the Say Her Name movement, and police violence against black communities.
BONUS: Watch the documentary '13th', available on Netflix, to learn about the 13th amendment and how mass incarceration of communities of color can appropriately be referred to as a form of modern day slavery. 
---
Daily Reflection
Once you have completed today's challenge, take a moment to reflect on any insights you experienced. How did the challenge make you feel? What is something you learned? Did you notice anything about yourself after taking the challenge? Consider sharing this new awareness with a friend or group to help deepen your understanding of the information. Consider tracking your reflections on the below daily log or start an online group with friends to encourage daily sharing with each other about the challenge topics.
---
Share each challenge online with
#YWCAEquityChallenge
DAY 1 | DAY 2 | DAY 3 | DAY 4 | DAY 5 | DAY 6 | DAY 7 | DAY 8 | DAY 9 | DAY 10 | DAY 11 | DAY 12 | DAY 13 | DAY 14
---
Do you have resources you think we should share? Any insights you would like to share with us? We welcome you to leave your comments here. Thank you!