So Much is Happening Around Here!
This past month has been one of growth, celebration, and courageous conversations. In April, we celebrated the arrival of spring with our annual Spring Fling Champagne Brunch; remodeled our Family Justice Center's Interview Room to provide a space of safety and comfort during difficult moments; and hosted our annual Stand Against Racism to encourage a dialogue about immigration and racism in our community, and how we can all take a stand to end hate. Check out all we did in April.
---
Spring Fling 2019- A Beautiful Celebration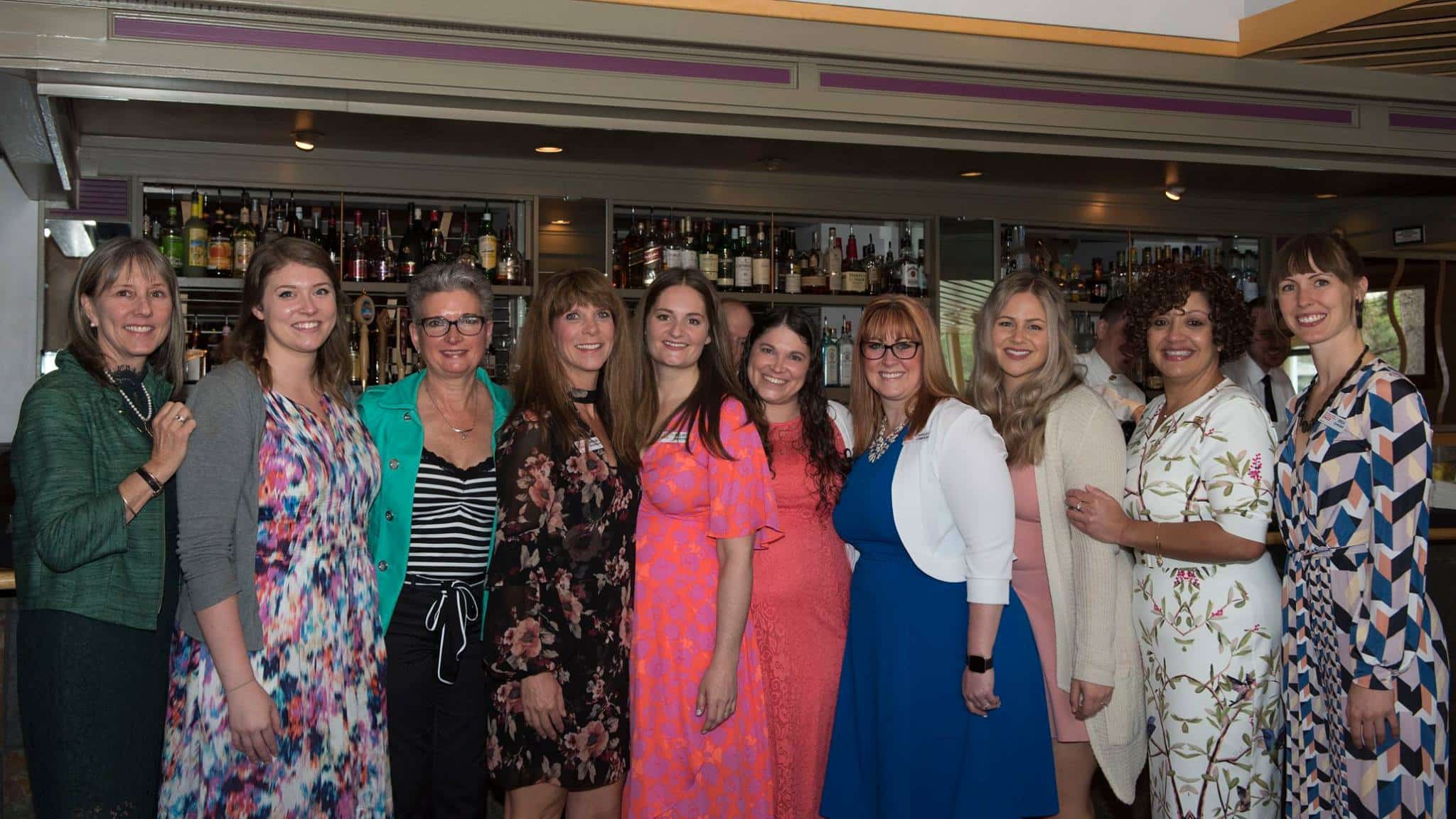 With over 200 dear friends present at Anthony's Restaurant, YWCA Spokane enjoyed a beautiful celebration of spring while raising critical funds for women, children, and families impacted by domestic violence, homelessness, and unemployment. We feel a deep sense of gratitude to all who joined, and helped us raise over $39,000 for our programs and services! It was truly a tremendous celebration and commitment from our community to serve women and families in Spokane. Thank you!
View photos from our Spring Fling here.
---
New Trauma-Informed Interview Room
YWCA Spokane is excited to share with you the newly remodeled Family Justice Center interview room designed to be a trauma-informed, welcoming space for survivors of domestic violence. Now, when survivors meet with detectives from the Domestic Violence Task Force Unit who reside within the Family Justice Center located at YWCA Spokane and YWCA Spokane legal advocates, they will be provided with a safe space designed to be trauma-sensitive and empowering.
From This…                                           To This!
We are so grateful to the Elizabeth Pool Charitable Trust for their donation to the Family Justice Center.  Because of their incredible gift, YWCA Spokane was able to remodel this room with no cost to our agency. This gift will make a lasting impact on survivors who access services by helping to create a safe, welcoming, and trauma-informed space. We thank you!
See photos of the new space and read more about the remodel here. 
---
Stand Against Racism 2019

Aligning with YWCA USA's national theme No Hate. No Fear. Immigrant Justice is Racial Justice, YWCA Spokane is hosting a testimonial and panel discussion with three immigrants living in Spokane. Each will be provided with an opportunity to share their personal experiences. Additional time will be provided for a panel discussion and a question and answer session. Due to outstanding interest for this event from our community, we reached maximum capacity for this year's conversation! For those unable to attend this year's conversation, there are additional ways to participate in the event, such as signing our national pledge and sharing our hashtag #standagainstracism
This event is made possible by Providence Health Care and  YWCA Spokane's Racial and Social Justice Committee, led by YWCA Spokane Board Members Kiana McKenna, Kate Burke, and Dr. Shari Clarke.
"YWCA's Stand Against Racism event will be a time for us, as a community, to stand together and say, 'No Hate. No Fear. Immigrant Justice is Racial Justice.' It is our responsibility to stand up for those most vulnerable and marginalized in our community, and this event gives us an opportunity to do so. We are stronger together." Kiana McKenna, Racial and Social Justice Co-Chair
Read more about our panelists and our national theme here.
---
Did You Know YWCA Spokane's Safe Shelter Welcome's Pets?

At YWCA Spokane, we recognize pets as part of your family. For nearly 20 years, YWCA Spokane's domestic violence safe shelter has provided a safe place for domestic violence survivors and their pets while connecting them to community resources. Aligned with federal Pet and Women Safety (PAWS) Act, our shelter reduces one of the many hardships a survivor comes up against in planning to leave a violent situation, for fear of leaving their pets behind.
Current research points to a correlation between animal cruelty and domestic violence. To keep your pets safe, as well as to remove barriers for victims escaping domestic violence, we happily welcome furry friends at our Safe Shelter.
According to domestic violence and animal abuse statistics from the National Coalition Against Domestic Violence, 71% of pet owners entering domestic violence shelters report that their batterer had threatened, injured, or killed family pets. These statistics also show that 25 to 45% of survivors hesitate to flee their abusers out of worry for the safety of their pets.
Read more about pets and YWCA Spokane's Safe Shelter here.
READ MORE PETS AT YWCA SPOKANE'S SHELTER
---
YWCA Spokane Conducts An Important training on Human Trafficking

From a recent employee survey, YWCA Spokane identified that almost half of our domestic violence advocates and counselors expressed having worked with a client who either self-disclosed or was suspected to be a victim of human trafficking.
What is Human Trafficking?
Simply put, human trafficking is a person who is trapped in a situation of economic exploitation from which they cannot escape is likely a victim or trafficking. Someone involved in moving that person into exploitation or keeping them there against their will is likely a trafficker.
Domestic violence, intimate partner violence, and human trafficking intersect in complicated and difficult ways. Showing many of the same methods of abuse, such as power and control over victims, as well as many of the same relationships between abuser and victim, such as parent or spouse, human trafficking and domestic violence correlate even in our own community. To better serve our clients, our advocates conducted a training to understand the scope of the issue.
Learn more about the intersections between human trafficking and domestic violence.
READ MORE our human trafficking training
---
Sunday Impact
Now that Spring is upon us, our Domestic Violence Safe Shelter can begin growing food and flowers in the garden! Providing seeds to our agency makes a huge impact on those we serve. Please consider donating as part of our SundayImpact campaign this week!
We are currently asking for seed packet donations to our Domestic Violence Safe Shelter. Seed packets will allow women and families residing in our shelter to partake in one of the Shelter's favorite hobbies, gardening! Help our Shelter create a beautiful garden for the summer. We invite the community to drop-off their tax-deductible donations of seed packets to YWCA Spokane's office at 930 N. Monroe St, Spokane, WA 99201. Thank you for your support!
Learn more about SundayImpact here.
---
Get Ready for An Evening in Tuscany!
Registration is now open for our annual summer dinner and fundraiser. This Tuscan themed event will be held at the beautiful grounds of Beacon Hill Events. Guests will enjoy a made-by-scratch dinner, wine, desserts, music, and art, and silent auction. Beautiful art, jewelry, and a trip to Tuscany will be available for bidding. Secure your tickets to this fantastic event now! 
register for EVENING IN TUSCANY
---

Do You Know a Woman of Achievement?
YWCA Spokane is proud to announce we are accepting nominations for our 37th Annual Women of Achievement Awards Luncheon! To honor trailblazing women in Spokane, we need your help. Make an impact today by nomination a woman of achievement in your life.
Submissions must be received by June 21st, 2019. Honorees and nominators will be notified of the awards status once selected. To nominate a Woman of Achievement, you are invited to print our nomination form and mail it to our agency; fill out our nomination form digitally (must download and open in PDF reader first); or, fill out our easy to use the online nomination form. 
Women of Achievement Award Categories
Arts and Culture:  This award recognizes an outstanding woman that fosters arts or culture in significant ways as an artist, volunteer, leader, educator, or patron of meaningful cultural and/or artistic endeavors within the community.
Business and Industry: This award recognizes an outstanding woman who is acknowledged in business or industry for her exemplary leadership.
Carl Maxey Racial and Social Justice: This award recognizes an outstanding woman with a record of exemplary leadership and service in the areas of eliminating racism and promoting diversity through community service, racial reconciliation and/or social justice outreach within the community, workplace, institutions or agencies.
Community Enhancement: This award recognizes an outstanding woman who inspires, mentors advocates and acts on behalf of others through community programs or organizations, government, military or first responders or philanthropic endeavors.
Education: This award recognizes an outstanding woman who is a public or private educator, trainer, or administrator who inspires a passion for excellence and innovation for personal growth, development and lifelong learning through the education system, employee training and development, community education or alternative programs.
Science, Technology, and Environment: This award recognizes contributions of an outstanding woman in a science-related field including pure and applied sciences, engineering and life sciences, healthcare, technology, agriculture or the environment.
Young Woman: This award recognizes an outstanding young woman that is making an impact early in her career to better our community.
Learn more about nominating a Woman of Achievement.
---
Thank You for Your Endless Support!
Thank you to all who make our mission possible. This month has been so successful because of you!
"Love everything the YWCA does. They helped me for several years: Pathways, counseling, camaraderie, workshops, and other problems. Thank you YWCA." – YWCA Spokane Client